"The Adventures of Tintin" Primer: A 101 guide to the famous boy detective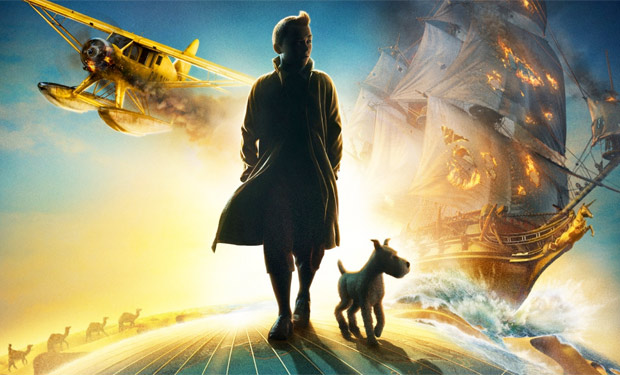 Posted by Aubrey Sitterson on
Steven Spielberg's ambitious film "The Adventures of Tintin" will finally make it to American theaters today, nearly two months after being released in the United Kingdom. While the boy reporter Tintin is one of the most famous comic characters in the world, stateside the beloved creation of Belgian cartoonist Hergé has always played second fiddle to superheroes.
So, in order to ensure that you, our beloved readers, are ready to fully enjoy and appreciate Steven Spielberg's "The Adventures of Tintin," we've compiled the following primer. The flick, which adapts elements from three of Hergé's books, including "The Crab with the Golden Claws," "The Secret of the Unicorn" and "Red Rackham's Treasure," is totally self-sufficient and succeeds on its own merits, but with this primer, you'll be able to impress fellow filmgoers with your knowledge of bande dessinée (French for comics, natch).
---
Tintin
The focus of Hergé's most famous work, Tintin is an intrepid boy reporter, easily identifiable by his blonde, flipped up hairstyle and signature blue sweater. Somewhat of a blank slate, Tintin's past and family are never mentioned, and his only character traits seem to be culled from the Boy Scout Oath and Law. In the past, Tintin has sometimes been criticized as an unrealized or even bland character – similar to the complaints lodged against contemporary portrayals of Superman. But like Superman, Tintin is interesting not because of any character flaws, but as an idealized force of nature (in this case, his curiosity, dependability and optimism) cast into a world of deceit and shady goings-on.
Fun fact: The proper Franco-Belgian pronunciation of the character's name actually sounds like "Tantan," but unless you're wearing a beret, you should probably just stick to "Tintin."
---
Snowy
Tintin's constant companion is his small, white terrier-esque dog Snowy. Though he can't speak, in the comics Snowy does occasionally have thought balloons, and is also otherwise heavily anthropomorphized. Snowy is a faithful, well-meaning pet, but frequently lets his animal nature get in the way of a case. Just as often, however, its Snowy's reckless exploration that sets Tintin on the path of solving a mystery. Thus, Snowy's impulsiveness serves as a counterpoint to the measured, almost analytical acts of his owner.
---
Captain Haddock
Similarly, Tintin's friend Captain Haddock (who he meets for the first time in "The Crab with the Golden Claws") serves to illustrate what Tintin is not. While Haddock is a loyal friend, he's also a drunkard, and given the option, he'll choose Scotch Whiskey over pretty much anything else. In this way, he's like an extreme version of Snowy, often ruled almost entirely by his base instincts, and the source of countless tirades that substitute a bevy of great SAT words for actual profanity. Unlike Tintin and Snowy, who are largely ciphers, Captain Haddock is a more fully realized character, with strengths and weaknesses that serve as a contrast to the ultra-goodness of Tintin.