ADAPT THIS: "Forgetless" by Nick Spencer, W. Scott Forbes, Marley Zarcone and Jorge Coehlo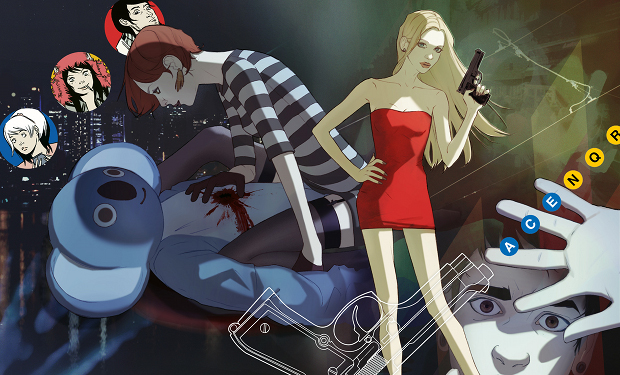 Posted by Rick Marshall on
With Hollywood turning more of its attention to the world of graphic novels for inspiration, I'll cast the spotlight on a new comic book each week that has the potential to pack a theater or keep you glued to your television screens. At the end of some "Adapt This" columns, you'll also find thoughts from the industry's top comic creators about the books they'd like to see make the jump from page to screen.
---
This Week's Book: Forgetless by Nick Spencer (w), W. Scott Forbes (a), Marley Zarcone (a), and Jorge Coehlo (a)
The Premise: An all-night party in New York City provides the setting for a modern version of "Rashomon" that plays out amid the club kids and party people of the city that never sleeps. When a pair of models moonlighting as contract killers try to make some easy money, events go awry and the night takes a turn for the crazy — and that's before the giant purple koala makes an appearance.
The Pitch: Hollywood already has its eye on Nick Spencer after snatching up his creator-owned series Existence 2.0 last year, so it's actually a bit of a surprise that Forgetless hasn't found its way onto a studio exec's desk yet. This 2009 series charts the events of a crazy night in New York City's club scene from the points of view of several different characters, including the aforementioned models-turned-assassins, a late-night television host with a sordid addiction, a pair of grifters who star in a twisted web series, and a quarter of New Jersey kids who absolutely must attend the party.
Spencer's tale weaves all of the disparate narratives together through a series of jumps back and forth in time and abrupt cuts that leave you wondering exactly who to root for — and whether anyone will still be alive when the sun comes up.
There's been no shortage of films that unfold over the course of a crazy night in the club scene, but there's never been one that tells a story quite like Forgetless, with its cast of characters so unique that they could only exist in a city as dangerously weird as New York City. Forgetless doesn't bother romanticizing the city, but instead offers up a long list of the things people can — and do — get up to in the city, juxtaposed against the constant stream of status updates that punctuate most city-dwellers' days.
Like a murder mystery for the clubbing crowd, an adaptation of Forgetless would be equal parts hip, urban drama and boozy, consequence-free adventure in the big city. It's easy to imagine a young, up-and-coming actor having a field day with much of the dialogue Spencer has crafted for his characters, and looking back on this project as the one that first caught Hollywood's eye and opened the door toward more mature roles.
Requiring little in the way of effects or expensive set pieces, a "Forgetless" movie would rely on strong performances from its cast in order to capture the recklessness and city-fueled audacity of its characters. The story also leaves more than enough room for a talented filmmaker to flex his artistic muscles and bring a unique flavor to the film's visual tone.
The Closing Argument: As far as adaptations and their source material goes, Spencer's Forgetless lays out all the groundwork for a fresh, edgy spin on the urban experience, and leaves lots of room for interpretation when it comes to its cast's whims and director's style. A "Forgetless" movie seems like a win-win situation for Hollywood, offering a compelling, ready-made story with lots of room to be shaped to a particular director or studio's tastes, and a number of roles that could easily be filled with both fresh and familiar faces.
---
Would "Forgetless" make a good movie? Chime in below or on Facebook or Twitter.