IFC.com's 2011 Holiday Gift Guide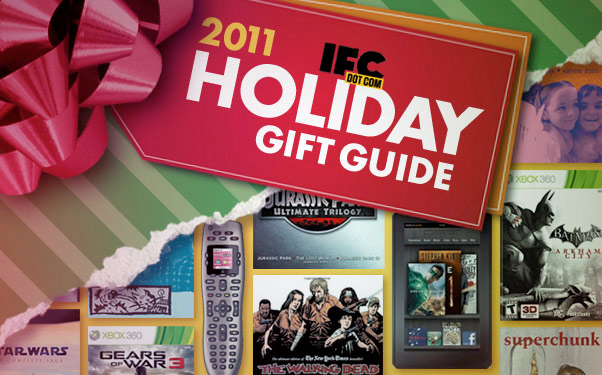 Posted by IFC on
Whether you're a fan of superhero action, absurd humor, or heart-wrenching drama, it's a great time to be reading comics – but it can be a little intimidating to shop for the comics fan on your list if you're not exactly a regular reader. And with that in mind, we've put together a list of some of books you might want to add to your holiday shopping list.
The list below features some great mainstream books, indie darlings, a television tie-in or two, and even some collections of popular webcomics that are finding a new audience in print. In fact, all you need to do is match the book with the person you're buying it for, and your shopping is done – aside from the gift-wrapping, that is. Consider it our holiday gift to you.
---
Batman: Knightfall Vol. 1-3
For the mainstream superhero fan on your list, next year will be a big year for Batman. Christopher Nolan's "The Dark Knight Rises" hits theaters in July, and the film will introduce one of Batman's greatest enemies, Bane – who famously "broke the Bat" in the now-classic Batman: Knightfall storyline.
Anyone looking for a refresher course on why Bane is one of the Dark Knight's most dangerous foes need only pick up the collected editions of the Knightfall arc ("Broken Bat," "Who Rules The Night," and "KnightsEnd") to get all the back story on the brilliant behemoth Tom Hardy will play in the film. This is must-read material for any Batman fans out there.
---
Ultimate Comics Avengers, Vol. 1: The Next Generation
With Marvel's massive team-up movie looming on the horizon, now's as good as time as any to get caught up with Earth's Mightiest Heroes. Marvel recently relaunched many of its most popular characters in the Ultimate Comics line, offering up a more modern, gritty take on the heroes that's frequently cited as one of the chief inspirations for its recent (and upcoming) movies.
The first volume of Ultimate Comics Avengers features a story scripted by Wanted creator Mark Millar, and introduces readers to the team dynamic by throwing the cast of characters into yet another world-threatening catastrophe – or in this case, multiple catastrophes. While it's certainly not recommended for children, Ultimate Comics Avengers goes a long way toward reminding older fans why the Avengers are not a team to mess with.
---
DC Comics: The New 52
DC Comics made headlines a few months ago when it rebooted its entire universe and launched 52 new series in the span of a month. The first issues of all of those series are collected in this impressive hardcover volume, and it's no exaggeration to say that there's something for everyone in this book.
From Superman and Wonder Woman to Swamp Thing and Aquaman, this collection has all of DC's new line of characters, and provides the best jumping-on point you can ask for when it comes to the DC universe. Oh, and on a side note, I highly recommend Jeff Lemire's Animal Man – it's one of my favorite of the bunch.
---
The Walking Dead: Compendium One
Sure, everyone loves the AMC television series, but Robert Kirkman's post-apocalyptic zombie saga has been rolling along for years now and steadily building a shambling legion of fans. This massive tome collects the first 48 issues of the series, and includes some of the most memorable moments from the first few years of the comic. Despite its size, it's also a bit more manageable than than the beautiful-but-heavy hardcover "Omnibus" editions, so it's an easier (and cheaper) way to get caught up with the hit series.
It's also worth noting that the comic book series and television series differ quite a bit in some areas, so if you know someone who's a big fan of "The Walking Dead" tv series, they'll find plenty of surprises in this collection.
---
Doctor Who: The Dave Gibbons Collection
Also spinning out of a fan-favorite television phenomenon is IDW Publishing's Doctor Who: The Dave Gibbons Collection, a hardcover collection of Watchmen artist Dave Gibbons' celebrated run on the series. The popular artist had a lengthy, memorable run on the series, which took the BBC's science-fiction hero from the television to the printed page for some wild adventures.
This particular collection follows the fourth iteration of The Doctor (played by Tom Baker in the television series), and brings together all of Gibbons' work for the very first time. If there's a "Doctor Who" fan on your list – and there seems to be a lot of them these days – this collection could send him or her into a fandom-induced frenzy, so consider yourself warned.
---
Locke & Key, Vol. 1-4
Also from IDW Publishing – and also with a television connection – is Locke & Key, the award-winning series written by Joe Hill, the son of novelist Stephen King. Hill clearly inherited his father's talent for telling a scary story, as Locke & Key manages to be both terrifying and compelling, and keeps readers guessing from one page to the next. The series tells the story of a family that inherits a mysterious mansion in which magical keys unlock all sorts of wonderful – and occasionally nightmarish – secrets.
The series was optioned a while back amid much fanfare, but the pilot episode of the series was never picked up. Nevertheless, the episode received heavy praise from fans when it was screened during this year's Comic-Con in San Diego. The four volumes of the series ("Welcome to Lovecraft," "Head Games," "Crown of Shadows," and "Keys to the Kingdom") will show you what the fuss is all about and – I'm betting – make you a fan, too.
---
Wednesday Comics
This oversized, hardcover collection of DC's critically praised Wednesday Comics series features 16 different stories by some of the best-known writers and artists in the comics industry. Originally published as weekly newspaper-style strips, the series assembled an impressive cast of characters from all across the DC universe, including Batman, Adam Strange, Metamorpho, Wonder Woman, and Sgt. Rock.
Even more impressive than the characters featured in the series are the creative teams the publisher assembled for the project – an eclectic list that includes everyone from Neil Gaiman and Paul Pope to Walter Simonson and Joe Kubert. While the book isn't likely to fit on your comic fan's shelf (it's slightly smaller than an unfolded, standard newspaper), it will definitely occupy a place of honor in his or her collection.
---
Morning Glories, Vol. 1 Deluxe Collection
One of our favorite new series, Morning Glories is what would happen if you set the "Lost" television series inside a mysterious prep school. Filled with shocking cliffhangers, multiple layers of brain-tingling mysteries, and characters faced with more questions than answers, the series is a no-brainer for gift guides and "Best Of" lists – mainly because it feels like a great television series in comic book form.
This hardcover edition of Morning Glories collects the first 12 issues of the series, and is filled with lots of extras and exclusive content that fans will certainly appreciate. If you end up thumbing through the series while you're waiting in line, don't be surprised if you end up buying one for yourself to accompany the one you're giving away.
---
Twenty-Seven, Vol. 1: First Set
You know all of those stories about why so many musicians and other artists died at age 27? Well, this series from Image Comics tackles that very subject, and crafts a fascinating mythology out of the "27 Club" that you'll need to read to believe.
From Jimi Hendrix and Janis Joplin to Kurt Cobain and – most recently – Amy Winehouse, the "27 Club" has sparked no small amount of speculation and urban myths. This book is an easy pick for the music-loving comic fan on your gift list, and collects the first four issues of the series in one place.
---
Infinite Kung-Fu
If you know someone who's a fan of old-school martial arts films – or the modern-day homages to them – Kagan McLeod's Infinite Kung-Fu needs to be on your shopping list. The critically praised graphic novel follows a former soldier who must master the greatest kung-fu techniques in existence in order to save the world from the evil emperor's diabolical plans. Not only is it a great story, but it's the sort of epic tale that will have readers cheering along each stage of its hero's quest.
This 464-page book collects the entire story in one bookshelf-worthy novel, and you'll realize in no time why it's regarded as one of the year's best books.
---
The Homeland Directive
If the comics fan on your list is the sort who appreciates a tense drama peppered with high-octane action (a la the "24" television series), this story by the writer of The Surrogates will scratch that itch quite nicely. Robert Venditti's The Homeland Directive follows an expert researcher at the Centers for Disease Control and Prevention who's caught up in a massive conspiracy that threatens the lives of millions of Americans.
At times feeling like an edge-of-your-seat thriller straight off a movie screen, The Homeland Directive should appeal to anyone who wants a little more than capes-and-tights superhero fare, and appreciates a fast-paced story with real-world danger and implications.
---
Fables: The Deluxe Edition, Books 1-3
It seems like faery tales are all the rage these days on television, but comic book readers have been privy to years of edgy spins on Snow White, Pinocchio, and the rest of the faery-tale world in Bill Willingham's Fables. The award-winning series chronicles the adventures of popular characters from folklore who were forced to hide out in modern-day Manhattan after being driven from their homelands by a mysterious adversary.
The series reached its 100th issue earlier this year, but these hardcover collections each take you through 10-12 issues of the series and offer lots of great extras that other editions are missing. If you like what you read, you can decide to catch up with the more frequently published paperback collections or even the single issues – but these editions are a great way to begin this thrilling series that somehow manages to get better with every story arc.
---
Scenes From A Multiverse: Book One
Jonathan Rosenberg had everyone guessing what was next when he ended his long-running, wildly popular webcomic Goats, but his follow-up series Scenes From A Multiverse has more than lived up to expectations. Chronicling the weird science and alien cultures of a variety of fictional planets, Scenes From A Multiverse manages to be both hilarious and thought-provoking – and the perfect gift for the comics fan on your list who doesn't mind a few jokes about advanced physics and the trouble with time-travel drugs.
Scenes From A Multiverse: Book One is the first (obviously) collection of Rosenberg's popular new series, and features an introduction by Skepchick.org lead writer Rebecca Watson.
---
Octopus Pie: There Are No Stars In Brooklyn
More than just a love letter to the urban experience, Meredith Gran's Octopus Pie is a wonderful story about two women trying to figure out how to make the best of life in that uncertain time after school ends and the rest of your "grown-up" life begins. The first two years of Gran's poignant, funny, and occasionally very personal webcomic were collected in this treasury published by Villard Books, which also includes a bonus story available only in the collection.
As with all webcomics, if your intended recipient enjoys the book, he or she will find plenty more comics to read on the Octopus Pie website – so there's a good chance you'll be giving a gift that keeps on giving.
---
The Abominable Charles Christopher: Book One
Karl Kerschl's beautifully detailed webcomic about an adorably naïve sasquatch and a forest full of talking animals was named the best digital comic of 2011 at this year's Eisners – the comic industry's most prestigious award ceremony. A respected artist already known for his work on various superhero comics like Teen Titans: Year One and the aforementioned Wednesday Comics #1 (as well as a well-received comic based on the Assassin's Creed video game series), Kerschl has made a nice home for himself in the online world among the wise-cracking creatures of Charles Christopher.
Kerschl self-published this first print collection of the series in a nice paperback edition that deserves equal space on any comic fan's bookshelf. Simply put, if you don't find yourself grinning while reading Charles Christopher, you might not have a soul.