Our 10 favorite comedy podcasts that you should be downloading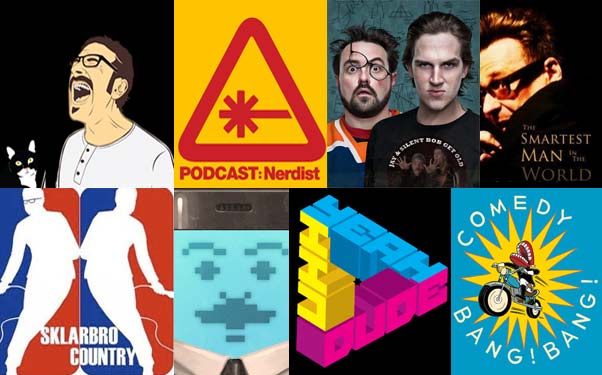 Posted by IFC on
It's a different world for comedians these days. Once upon a time, you had to pray for a chance to get on The Tonight Show with Johnny Carson, and then hope you were funny enough to get called over to the couch – the sure sign that you'd made it in the business. But there's no Carson anymore, and the current version of The Tonight Show is kind of a comedy black hole.
What you do these days is start your own podcast to toss your brand of comedy out onto the internet completely unfiltered. If you're successful, you might be like Ricky Gervais, who has managed to get his podcast turned into an animated HBO series, and even spun off his weird little breakout star Karl Pilkington into a show of his own, entitled "An Idiot Abroad." There are a lot of these shows to sift through, but here are ten podcasts you should check out if you haven't already.
---
Veteran stand-up comic and former Air America host Maron is a painfully self-aware personality who exemplifies the kind of relentless, uncontrollable self-analysis that it takes to make a career out of telling people about your life on stage. With WTF, Maron is not only baring his own soul with all of its unsightly warts, but he's also turning that critical gaze onto the greatest talents in comedy, getting intensely personal interviews out of people like Conan O'Brien, Norm MacDonald, Judd Apatow, Robin Williams, Jonathan Winters and more. This comedy confessional is always a fascinating listen.
---
Sporting a delightful 8-bit opening theme song from Anamanaguchi that always puts one in the mood for a good time, professional nerdy comic Hardwick eagerly hosts this celebration of all things dork from the point of view of an excited fan with the knowledge-ability of a comedy veteran. His genuine appreciation for the comedy form and brainiac pursuits gives him free range to get guests running the gamut from astronomer Neil deGrasse Tyson down to gutter comic Dave Attell, currently hosting a show called "Dave's Old Porn."
---
Improvisational genius and "Who's Line Is It Anyway" veteran Greg Proops takes his podcast on tour in front of a live audience each week. He's funny, he's eloquent without being afraid of profanity, and he's fervently political as he covers the topics of the week and waxes conversational covering all kinds of topics. He may not actually be the smartest man in the world, but he's damn smart and he's quite thought-provoking.
---
Harland Williams is a delightfully weird comedian who delights in making not-so-much sense. He's an unrepentant goofball, which you know if you ever see him work the late-night circuit and cracking up the hosts. He ratchets up the doofiness of his voice so much that it's almost disconcerting to listen to him actually being coherent. He may be an acquired taste.
---
Seth Romatelli and Jonathan Larroquette (yes, the son of John) have one of the most consistently popular comedy podcasts going, to the point where even podcast innovator Ricky Gervais has expressed his fandom of the show. They don't bother with guests. They just talk about things and entertain people with their conversations, and isn't that what we all wish we could do with our scintillating repartee?