Zombies as a metaphor: a discussion on the undead in popular culture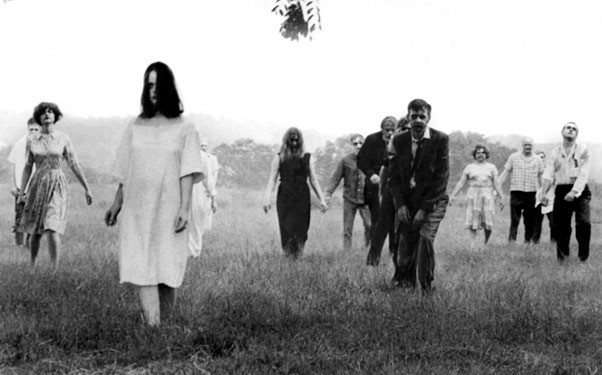 Posted by Ron Mwangaguhunga on
"Traveling in a fried-out combi/ On a hippie trail, head full of zombie." – Men at Work, "Down Under"
I have, like everyone, been thinking about zombies in pop culture. Let's face facts: we live in a golden age of zombie. What is the most successful show on GetGlue? "The Walking Dead." Further, the 24/7 web site actually estimates that the zombie genre is worth over $5 billion to the U.S. economy.
It's a zombie world and we are just trying to survive the slow advance of the famished hordes. There's more. Zombie mash-ups are reinvigorating classics. Zombies, everywhere, are on the march. Zombies are even, if you believe it, taking over the economy (figuratively, of course). Things have gotten so zombie out there — and there really is no other way to describe it — that the Centers for Disease Control's "Preparedness 101: Zombie Apocalypse" blog post this past spring crashed their site.
"There are all kinds of emergencies out there that we can prepare for," read the offending blog post. "Take a zombie apocalypse for example…. You may laugh now, but when it happens you'll be happy you read this, and hey, maybe you'll even learn a thing or two about how to prepare for a real emergency."
Zombie as metaphor! For some reason – our national debt, perhaps? – the idea of an impending zombie apocalypse is the zeitgeist, and our popular culture just cannot seem to get enough. What is the meaning of this thusness?
With vampires, the glamour is obvious. Vamps are sexy, forever young and, quite frankly, built to withstand a robust nightlife for eternity. They are objects of both envy and geek lust. But zombies, with their spasmodic jerks and tortured, rigor-mortise twists as well as, one cannot fail to note, their hugely unfashionable state of decomposition, exude tragic unhipness. And I don't mean that in a good way. Zombies, let's face it, are the geeks of the monster world. If vampires are the undead, then zombies are the uncoordinated. And yet…zombie chic persists. How does one account for it?
There's just something about zombies. Zombie determination to get at our brain matter is, well, commendable; their slow-and-steady-wins-the-race persistence is the stuff of the American dream. But let's get serious. Just as "The Blob" was the perfect Cold War allegory, zombies specifically speak to our time. Zombies, with their deficit of life, mirror an economy of debt. Zombies, in their grunting aimlessness absent decent eating material, parallel the amount of Americans who believe we are rudderless. Decline is in the air, a sense of imperial overreach in Afghanistan ("the graveyard of empires") and in competition with the rising nations.
If there is a relationship between the national disequilibrium post-Watergate and the popularity of "The Exorcist" in the 70s (and I believe there is), then perhaps today zombies represent indebtedness and unemployment. Our national debt and our unemployment– steady at about 9% — are not entirely unlike a metaphoric economic zombie infection. That might account as to why the zombie genre has gained such traction in the last few years, in books, in movies and on TV. Something rings true. If only the $5 billion that the zombie genre generates plug the $14 trillion hole we have dug ourselves in. That would be totally zombie.