What happened to DVD special features?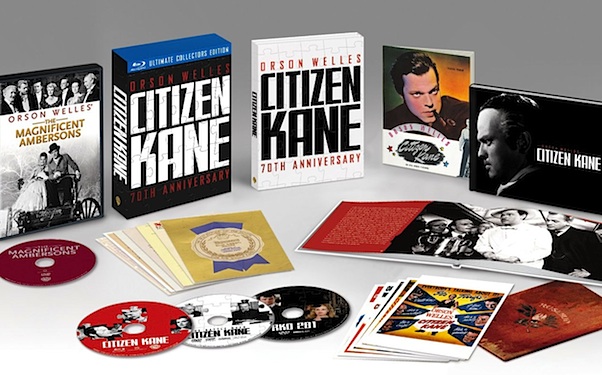 Posted by Matt Singer on
Brian Collins over at Badass Digest has written a good piece about a subject that's been troubling me lately: disappearing DVD special features. His "The Slow Death Of DVD Special Editions" identifies the recent lack of quality and depth in DVD and Blu-ray releases. And he's absolutely right when he says:
"Nowadays, beyond the occasional big ticket item like the 'LOTR' or 'Star Wars' films, you almost never see these sort of mammoth sets anymore, particularly for horror movies. Most of them don't even have actual special editions — as terrible as it was, 'Nightmare On Elm Street' was one of the bigger hit horror films of 2010, yet its DVD only has a few deleted scenes and a generic making of along with Blu-ray exclusive features (brief interview/behind the scenes snippets). No commentary, no in-depth documentary, etc. Compare that to the special edition DVD of Platinum Dunes' equally successful 'Texas Chainsaw Massacre' from six years before, which had three commentaries and hours of material (spread across two discs), including a documentary about Ed Gein! For twenty bucks, you got a set that would take nearly a full day to go through in its entirety, plus crime scene photos and things like that. Now, you can be done with the (disc-only) 'Nightmare' set in about three hours or so, which costs the same amount."
Collins identifies the rise of online movie streaming through services like Netflix as the leading factor in the death of DVD special editions. Unquestionably, it's an important one. Wonderfully convenient as they are, streaming video sites like Netflix don't offer special features. There are a few exceptions: you can follow your Netflix Instant viewing of "The Expendables" with "Inferno: The Making of 'The Expendables,'" for example. But those exceptions are few and far between. If you want to watch "Insidious" — one of the best horror movies of the year — on Netflix, you'll have to do so at the sake of missing its DVD special features. Then again, those special features are so paltry (a Horror 101 seminar with the filmmakers, a brief behind-the-scenes documentary, and a featurette about the film's ghosts) it might be a sacrifice worth making. The same goes for Amazon Prime. Ditto iTunes movie rentals.
If you're still using Netflix's DVD rental business, you've no doubt noticed the disappearance of special features there as well. Most Netflix discs of major new releases no longer include the supplements; clicking on them in the onscreen menus brings you to a disclaimer instructing you to buy the film for the full experience. Given that sort of teasing marketing technique, you'd think it would be in the studios' best interests to continue to deliver high-end supplements to encourage purchases. But as Collins notes, that just isn't the case.
The bad economy and the decline of the DVD and Blu-ray markets, probably have as much to do with the problem as people's streaming habits. Companies are cutting back wherever they can, and I suspect smaller rosters of supplements and fewer 2 or 3 disc DVDs and Blus are a direct result. Factor in the nature of online viewing and the fact that less and less people have the opportunity to consume special features, and you're left with an artform in decline.
It's particularly a shame because of the potential for new and innovative supplements on Blu-ray. Just a few years ago, as Hollywood embraced this format, we got some very creative special features. For example, I love the "Crank'd Out" mode on the "Crank: High Voltage" Blu-ray, which gives you a video commentary by the filmmakers which you can put either full-screen or picture-in-picture with the movie and includes mini making-of documentaries that branch out from the main feature. Zack Snyder made some interesting video commentaries as well. Lately, when we do get special features on Blu-rays, they seem far more pedestrian.
Experimentation apparently isn't considered a good investment anymore. That's a shame. Even though they're getting rarer and rarer, special features just don't feel as special anymore.
Do you miss the heyday of DVD special editions? Tell us in the comments below or on Facebook and Twitter.