Check out the original unreleased trailer for "Bellflower"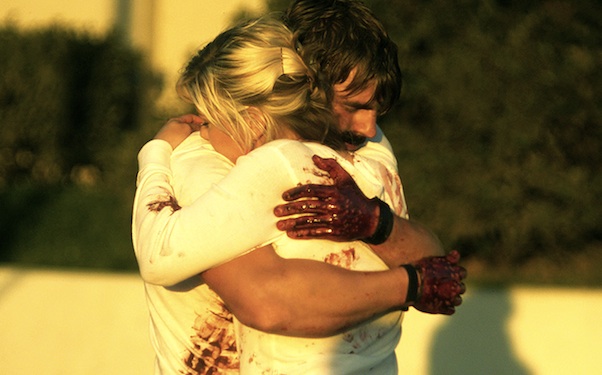 Posted by Matt Singer on
If you missed Evan Glodell's "Bellflower" this summer, it's now available on DVD and Blu-ray. At last you can enjoy all the drama of this apocalyptic love story in the privacy of your own homemade muscle car that dispenses alcohol and shoots fire. You can read my original review of the movie here and my interview with Glodell here. As you can tell, I'm definitely a fan.
That's why I was excited when a producer for the film passed this video along to me on my Facebook page; it's the original trailer for the movie, first conceived by Glodell in 2003 before he'd even completed his first draft of the screenplay. To drum up a little interest in this week's DVD release, they've posted this previously unseen trailer on YouTube. Take a look.
And here's Glodell's comments on the trailer:
This is the original trailer I wrote for "Bellflower" in 2003 before the first draft of the script was even finished. When "Bellflower" sold earlier this year we got the script back out and decided to make it. We all liked it, but it made me so uncomfortable that i buried it.

Time has gone by, our theatrical release is almost over and everyone still seems to like the film which i think has taken a lot of stress off me. The DVD came out yesterday so this is the last chance for this trailer to have any purpose. I feel like it was our best attempt to make something that truly represented the movie and as odd and uncomfortable as it makes me feel, I have decided to post in on here for whoever cares to see it.

Hope you enjoy.

-Evan
That's a very different and much less conventional trailer than the official one by distributor Oscilloscope Labs. While Oscilloscope's trailer is undeniably the more effective piece of movie marketing, Glodell's version is arguably more interesting. It functions less as a commercial and more as a companion piece to the film. The confessional narration spoken Woodrow (played by Glodell) feels far more revealing about his state of mind than any of his dialogue in the actual movie. It could almost be a deleted soliloquy scene.
Given "Bellflower"'s DIY nature — the director and his small crew did everything and made everything, including the badass car and working flamethrower seen onscreen — I'm not surprised they made their own trailer too. And I dig that. More independent filmmakers should follow their lead.
Which "Bellflower" trailer do you prefer? Tell us in the comments below or write to us on Facebook and Twitter.