Five underrated Woody Allen movies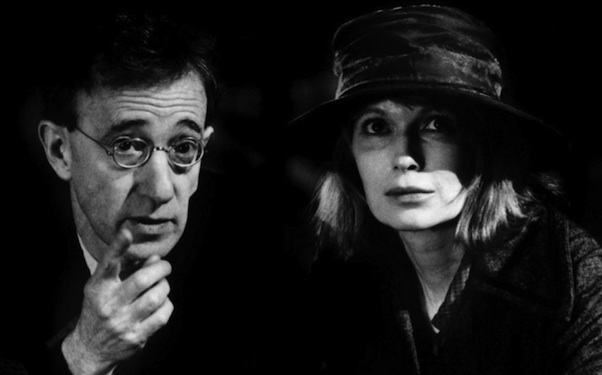 Posted by Matt Singer on
The two part Woody Allen documentary on PBS this week has got a lot of people thinking and talking about the prolific filmmaker again. Everyone agrees on his best work — "Annie Hall," "Manhattan," "Hannah and Her Sisters" — and just about everyone agrees on his worst stuff — "The Curse of the Jade Scorpion" — but after that it gets a little trickier.
Picking five "underrated" Woody Allen movies isn't an easy job. The man has made a lot of films, and everyone has their personal favorites; a Twitter poll on this subject yielded at least a dozen different responses and no clear consensus (though "Match Point" and "Broadway Danny Rose," two fine films which are both absent from this list, were quite popular). So these are my five favorite underrated Woody Allen movies. You could very easily have five others you prefer. But if you haven't seen these, I recommend that you do.
---
"Take the Money and Run" (1969)
Allen's true directorial debut (after the Japanese redub "What's Up, Tiger Lily?") was this early mockumentary. While Woody would refine his faux documentary technique in 1983's "Zelig," and he would make much "better" movies over the course of the next forty years, he arguably never made a funnier one. Admittedly, his visual style and command of narrative circa 1969 were crude. But to me "Take the Money and Run"'s rough edges look like strengths, not weaknesses. Not knowing the "right" way to direct a movie meant he tried about fifty different ways — all in the same, frenetic picture about a bumbling career criminal (Allen) and his misadventures in the underworld. As Allen settled into a filmmaking routine, his movies began to look more and more similar; occasionally, they became downright predictable. Decades later, "Take the Money and Run" is still a shocker.
---
"Everything You Always Wanted to Know About Sex (But Were Afraid to Ask)" (1972)
In Part 1 of the PBS documentary, Allen dismissed this movie the way you'd write off a meal at a highway rest stop. So why have I watched it more than any other Woody Allen movie? Probably because while its creator really only values his work as a tragedian, I love "Everything You Always Wanted to Know About Sex (But Were Afraid To Ask)" as an uproariously funny sketch comedy movie. When it gets remembered at all, it's usually for the final bit, which dramatizes the inner workings of the male reproductive organs from the perspective of one sarcastic sperm (played, of course, by Woody). But I love the sci-fi spoof in the middle that culminates with a mad scientist's greatest experiment — a gigantic, disembodied, female breast — roaming the countryside like a monster movie villain (the heroes finally defeat it by trapping it in a giant bra). And we haven't even mentioned the sequence where Gene Wilder falls for a sheep. Why is this not Woody's most beloved comedy again?
---
"Shadows and Fog" (1992)
True, Woody Allen's nebbish schtick and German expressionist cinematography make for a strange combination, the cinematic equivalent of a peanut butter and sushi sandwich. But somehow the goofy one-liners and atmospheric visuals work well together. "Shadows and Fog" has some of Allen's best post-"Love and Death" comic premises, including two men commiserating over a beer about women, unaware they're both kvetching about the same girl, and the moody, murky images are absolutely stunning. Woody Allen's never made a real horror film, but "Shadows and Fog" comes closest, especially in the scene where Jodie Foster licks Woody's nipples. "Shadows and Fog" isn't quite a scary movie, more of a "scared movie;" even by the standards of Woody Allen's filmography, it's an incredibly paranoid picture. Made just before his relationship with Mia Farrow exploded into a tabloid nightmare, it pulses with anxiety and misery. Farrow's character gets cheated on by her artist husband while Allen's character is nearly killed by his ex-wife after she catches him sleeping with one of her relatives. Was Allen, who based the film on his 1975 one-act play "Death," foreshadowing his problems or confessing to them before he got caught? Ironically, this atypical looking Woody movie feels like one of his most intensely personal statements.
---
---
"Deconstructing Harry" (1997)
Woody Allen is the author of his films, but is he also their subject? He has insisted for decades — even in the face of a mountain of evidence to the contrary — that his seemingly autobiographical movies have nothing to do with his real life. One of the things I love about "Deconstructing Harry" is the way it deconstructs that disagreement between filmmaker and viewer. In the film, Allen plays a novelist named Harry Block who must defend himself from charges by friends and (not so) loved ones that he airs their dirty laundry in his art. In "Woody Allen: A Documentary," Allen insisted, not surprisingly, that Harry was nothing like him. But Harry breaks up a family with an affair and fights bitterly for custody of a child with his ex-wife, things Allen did very publicly in the years leading up to "Deconstructing Harry." I'm not saying Allen is wrong, or that audiences are right. I'm saying that tension makes "Deconstructing Harry" — which is also bitterly funny, by the way — incredibly interesting.
---
"Melinda and Melinda" (2004)
This wouldn't be the first (or tenth) movie I would show a Woody Allen neophyte, but as a cinematic experiment, it's one of the director's most fascinating. Allen is a master of weaving multiple stories together into one film (see "Crimes and Misdemeanors") but in this case, he chose to tell one story multiple times. Over dinner, a group of writers debate whether life is inherently comic or tragic by alternating between funny and sad variations of the same basic premise: a woman named Melinda (Radha Mitchell, who's wonderful in both halves of the film) interrupts a dinner party and comes to upset the lives of a married couple. While it is indeed an experiment, "Melinda and Melinda" still speaks directly to Woody Allen's core philosophical beliefs. Is the world funny or sad? By dramatizing that question, and by showing how similar the two sides truly are, he argues that the only constant in life is absurdity. Whether we prefer to laugh or cry at it is up to us.
---
What do you think is Woody Allen's most underrated movie? Tell us in the comments below or write to us on Facebook and Twitter.