The Adventures of Tintin and the Case of the Too-Convincing Pirates, or how Apple and Comic Fans Got Fooled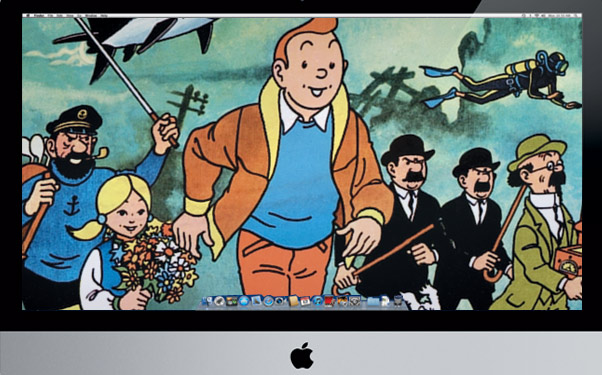 Posted by Aubrey Sitterson on
Yesterday, an iPad App called "Tintin: The Complete Collection" made the rounds across Twitter, Facebook and maybe even LinkedIn for all we know, as comic book professionals and fans (myself included) retweeted and shared a link to buy every Tintin book (24 of them!) for the absolutely psychotically low price of $4.99. The price point seemed to good to be true, and as it turned out, that's exactly what the App was.
At first glance, "Tintin: The Complete Collection" looks decently legit. There are no misspellings or weird non-native speaker grammar in the description, the images on the App's page are clear and easy-to-read, and besides, it's been through Apple's notoriously choosy and aggressive screening process, so it has to be real, right?
Unfortunately, once you look a little closer at the nitty-gritties on the left-hand side, it becomes apparent that there's something fishy going on. First up, the seller is listed as Gauruv Khanna, which while odd, in-and-of-itself isn't such a red flag, as many Apps have the individual developer or programmer listed in that spot. What's really damning, however, is the copyright info, which lists only GK Apps Inc.
Studio Hergé is notoriously bullish about protecting their copyrights, having gone after numerous parodies and pastiches which may or may not have been protected speech. So why on Earth would they allow someone to put the entirety of the Tintin catalog up in the App Store without the proper legalese? From that point alone, it's pretty fair to assume that the App is bogus, and created using pirated material, but that's not the only evidence.
If, like me, you purchased the App in a combination of excitement over getting all that classic material in one place, wishful thinking, assuming that the App Store was looking out for things like copyright and just plain simple ignorance, you can quickly see that "Tintin: The Complete Collection" is nothing more than some hastily assembled photocopies. Not only are many of the pages sized incorrectly for the iPad, but they're not even sized consistently incorrectly, and due to shoddy scanning work, the colors aren't even always consistent within a single book.
The craziest thing, and what I personally had the hardest time wrapping my head around was how this App full of clearly pirated material got approved for the App Store in the first place. How did it get past Apple's censors? The first reason is likely because by downloading the App, you don't actually download the books themselves, you just download access to the books, which is a subtle by important distinction. The books themselves actually live on an external server that the App contacts for access, which means, of course, that unless you're hooked up to the internet, you can't read the books at all.
The second, possibly more important reason, however, is that Apple just doesn't screen for this stuff. While the company might scan for viruses, compatibility or even whether their competitors are being promoted, they don't verify the copyright claims of every App that gets submitted. With something as egregious as "Tintin: The Complete Collection," that might be a little shocking, but it's better understood when you take into account the vast amount of material that comes across the desks of Apple's screeners, and the sheer impossibility of verifying every single copyright claim of every single App. I'm not totally clear on the legality of this, but I've even heard tell that if they were to verify copyright claims for some Apps, it would open them up to liability for the copyright validity of ALL Apps. Furthermore, even in traditional print media, protection of one's copyright tends to be the responsibility of the actual rightsholders, meaning that someone at Studio Hergé is probably drafting a furious letter to Apple right this moment if they haven't already.
So, it's increasingly apparent that Gaurav Khanna and anyone else involved with "Tintin: The Complete Collection" is a bottom-feeding pirate. A comic book scanner with the audacity, balls and lack of common sense to put the fruits of his piracy out in public where he can easily be tracked down by an angry rightsholder. We all know that piracy exists, and you can likely easily find torrents for all of the Tintin books in the App, if not one big one that has them all prebundled. The bigger issue, however, is: Why doesn't a legal version of this already exist?
It's anecdotal evidence of course (and will continue to be until someone does that exhaustive anonymous digital piracy survey), but yesterday Twitter was abuzz with people excited about getting this material digitally and presumably legally. Sure, a huge part of that has to do with the should-have-been-a-tip-off low price of $4.99, but the very fact that people were willing to shell out anything for the material when it's probably available completely free somewhere deals a huge blow to a piece of perceived wisdom about digital piracy: That pirates exist solely because people don't want to pay.
You're never going to completely eradicate piracy, just like no record store (remember those?) ever completely got rid of shoplifters. But there's a lot you can do to cut down on it, and the biggest thing is offering material in the format that people want to read it in. Right now, with more American interest in Tintin than probably ever due to the upcoming movie, it's impossible to get the classic Hergé books both digitally and legally. How much money is being left on the table here, and more importantly, how can Studio Hergé expect people to NOT pirate their material if it's simply not available?
This isn't a defense or apology for digital piracy – it's wrong both legally and morally, as it takes money out of the pockets of creators in a very concrete way. What it is, however, is an explanation. Some people pirate material because they want it for free, and there's little you can do about that except for prosecuting them. But many people downloaded pirated material simply because it's not available in the format in which they want to read it. Searching torrent sites, sifting through bad scans and viruses, figuring out which reader to use, dealing with inconsistent formats – downloading pirated material is a huge pain in the ass, and with the amount of excitement surrounding "Tintin: The Complete Collection," we're guessing that a lot of pirates are eager to be done with it.
DC Comics has figured this out in a big way, as they've made their entire main line available digitally on the same date it's released in stores, and Marvel and other comic book publishers are creeping steadily toward that same goal. But a failure to fully embrace that model right now continues to send people into the arms of torrent sites and other bastions of digital piracy. Do you have the modest goal of reading "Daredevil" on your digital device the same day as it hits the racks? Do you not live near a comic book store? Do you not have any room left in your apartment for another comic book box? Well, if so, you're stuck either downloading a pirated version or not reading the book at all – a pretty lousy proposition.
The big pink elephant in the room and the other key component to the excitement surrounding "Tintin: The Complete Collection" is, of course, price point. People weren't just excited about getting these decades-old Belgian comics, they were excited about getting them for only $4.99, which is a completely ridiculous, unsustainable pricepoint for comics material. Still, there's something to be learned from it, as most comic book publishers price their digital comics the same as their print versions, presumably in an effort to protect the loyal Direct Market of comic book stores.
Intellectually, I understand that I don't want any more print comic books – they take up space, are hard to organize and keep, and frankly, my fiancé has put up with enough already. But there's still a perceived loss of intrinsic value when you buy a digital version of a book as opposed to the physical. I don't even want the physical version, but it feels off to pay the same amount for something when so many middlemen (retailers, shippers, distributors, printers, etc.) have been cut out.
It's important to note, however, that a whole new group of middlemen are involved in digital comics, as someone must be paid to scan and format the books and develop and maintain the Apps that sell them. Also, Apple takes a flat 30% cut on anything purchased through one of their Apps, which takes a humongous bite out of anyone's profit margin.
Still, it's useful to think back to the success of iTunes. The platform blew up for a number of different reasons, including ease of use, the rise of the iPod and as discussed earlier, the fact that it was so much easier than searching for individual songs of varying quality on Napster, Limewire or any other peer-to-peer service. But another big reason people took to buying digital albums and songs so quickly was because it was cheaper than in the stores, which at the time were charging up to $18 for a single new release.
Again, whoever made "Tintin: The Complete Collection" is a thief, plain and simple, and if you purchased it without knowing (or even with knowing), you should delete the App and complain to Apple. But there are still some very important lessons to be gleaned from the past 24 hours, ones that could help immeasurably with companies struggling to make the transition from print to digital.
What do you think about the reasons behind digital piracy? Do you think more people do it because it's free or because the material isn't available? Tell us in the comments below or on Facebook and Twitter.