"The Woman in Black" trailer shows Daniel Radcliffe surrounded by horror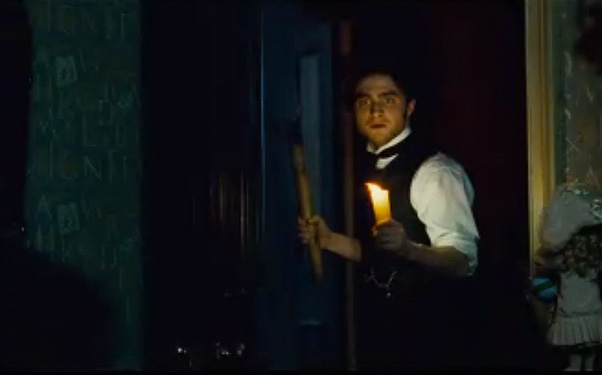 Posted by Terri Schwartz on
With every trailer released for "The Woman in Black," the film separates its leading man Daniel Radcliffe farther and farther from the "Harry Potter" franchise. The latest teaser is no different, and really solidifies that this movie is going to showcase an entirely new side of the actor's abilities. "The Woman in Black" will be scary, and Radcliffe is going to be right at the center of it.
What's nice about this trailer is that it really underlines what makes this flick so intriguing. "The Woman in Black" seems like it's going back to the heart of horror to the main element that scares us all: what's real, and what isn't? Clearly Ciaran Hinds' character is trying to convince Radcliffe's Arthur Kipps that the supernatural things he is seeing are all in his head, but are they? And if the titular Woman in Black preys on those who are most unstable, then what is the secret Kipps is trying to hide?
Maybe I'm just a baby when it comes to horror films, but this trailer for "The Woman in Black" is definitely the scariest of the two released. It also gives Radcliffe the most time to shine, and actually get some full sentences out in the teaser. Though there are plenty of other actors in this movie, it's definitely Radcliffe's to own if he gives a good enough performance.
"The Woman in Black" follows young lawyer and father Arthur Kipps as he is ordered to travel to a remote English village and settle a recently deceased client's papers. He ends up uncovering a ghost story that has traumatized the village, and must discover the identity and intent of the Woman in Black. The film hits theaters in the US on February 3.
What do you think of the increasingly scary "The Woman in Black" trailers? Tell us in the comments section below or on Facebook and Twitter.