The sudden death (and promising afterlife) of film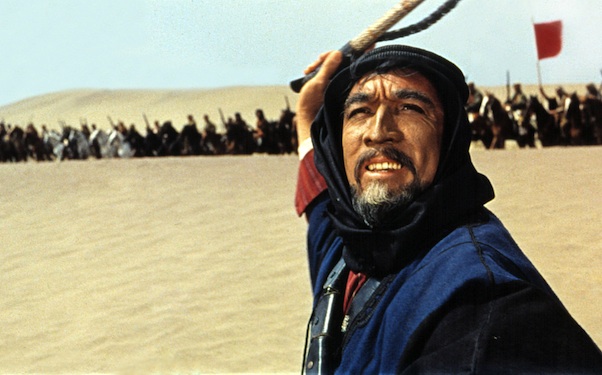 Posted by Matt Singer on
115 years is a pretty long life for anybody. It's almost perverse to feel sad for something that dies at the age of 115. If your grandfather died at the age of 115, you'd be sad, but you wouldn't be inconsolable with grief. The guy lived for 115 years! That's a damn good run.
Good run or not, I still can't help feeling more than a little depressed by Roger Ebert's blog post "The Sudden Death of Film," in which one of movie criticism's staunchest advocates for the medium of film — literal film, light projected through celluloid — concedes that is dead. Now it's all about digital:
"I insisted, like many other critics, that I always knew when I was not being shown a true celluloid print. The day came when I didn't. The day is here when most of the new movies I see are in digital. You and I both know how they look, and the fact is, they look pretty good… We live in a time few people could have foreseen on that day in Hawaii. I now view movies on Netflix and Fandor over the internet on my big-screen high-def set, or with an overhead projector on a wall-sized screen, and the picture quality pleases me. The celluloid dream may lives on in my hopes, but digital commands the field. I imagine there will always be 35mm projectors at film festivals and various shrines of cinema. Most of the movies ever made have probably not yet been digitized, and in many cases there may be no money for that. But my war is over, my side lost, and it's important to consider this in the real world."
I've got a great deal of affection for film too, and I've got plenty of my own personal memories of going to movies as a child and falling in love with that mysterious flickering light emanating from the back of the theater. Having worked in college at my school's student-run cinema, I also know a thing or two about the less romantic side of celluloid: the impossibly heavy cans distributors ship prints to exhibitors in, the tedium of splicing the reels, the difficulty of threading an ancient 16mm projector — all things that are eliminated with digital. Digital may not be as sexy or as tactile as film, but give it this: it is practical.
Though an executive from Kodak chimed in on the comments section of Ebert's piece to announce that reports of film's death have been greatly exaggerated, I don't think his large points are controversial: film is the past, digital is the future. If film's not quite dead yet, as Monty Python would say, it's certainly a dead man walking, as Tim Robbins would say. That much is inevitable.
It was funny to read Ebert's words on Friday and then spend Saturday steeping myself in film history at the beautifully renovated Museum of the Moving Image in Astoria, Queens. A day examining the exhibits, which include film cameras and projectors dating back to the earliest days of cinema, culminated with a screening of David Lean's "Lawrence of Arabia" in a restored 70mm print. Film had just been declared dead and yet here it was, up and walking around, as if it had become its own zombie movie before our very eyes.
It was a nearly full house; an impressive turnout for an almost fifty year old film that's widely available in assorted home digital formats. We were all there for the same reason: to cross "See 'Lawrence of Arabia' on the big screen, preferably on 70mm" off our film nerd bucket lists. It was worth the wait. And the hype. There may no better argument for film than "Lawrence" in 70mm. Everything you could want is up there on the screen.
In every possible way, "Lawrence" was made to be watched big. It is the anti-iPod movie. The 70mm images of men as nearly imperceptible specks on the heat-baked horizon would be impossible to appreciate in the palm of your hand. Lean's pacing is equally resistant to iPhone viewing habits. It's deliberate and methodical, the only way to really convey the arduousness of Lawrence's journeys through the deserts of Arabia. On your mobile device? You'd get a whiff of the arduousness and run screaming to your email. This is a film from another time and place, made for another time and place's tastes.
But here's the thing: people in our time and place came to see the film on film and they were enraptured. Going to the theater, sitting in the dark, turning off your goddamn phone for a couple hours, and watching something together; that's not going away even if the medium that brought that concept into existence is. We, the audience, are still here. That's a reason to be hopeful. Actual film may be dead; "going to see a film" will live forever. When it's good — like "Lawrence" in 70mm — it's downright heavenly.
Are you upset about "the sudden death of film?" Tell us in the comments below or write to us on Facebook and Twitter.