The Muppets movie franchise: Our 10 favorite celebrity cameos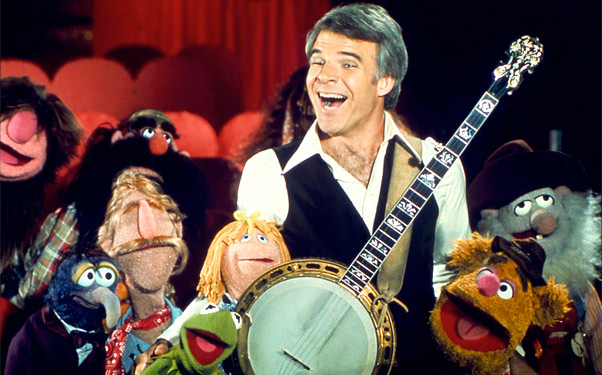 Posted by Rick Marshall on
Way back when the Muppets maintained a regular presence on television and movie screens, it seemed like every celebrity was jockeying for a cameo on "The Muppet Show" or one of the characters' feature films.
With "The Muppets" arriving in theaters this week, that tradition continues. Making appearances in the film are everyone from Dave Grohl and Neil Patrick Harris to Zach Galifianakis and James Carville, along with many, many more celebrities with a soft spot for Kermit and his gang.
While the actors, musicians, and other famous faces appearing in the film are joining an impressive list spanning decades of cameos, they also have some big shoes to fill. Over the course of making seven feature films, the Muppets have assembled a memorable list of cameos from some true Hollywood icons.
So without further ado, here are our 10 favorite cameos from the Muppets movies.
---
RICHARD PRYOR
His role in "The Muppet Movie" was a brief but memorable turn as a balloon salesman, but it's a great example of how to make a short scene live a long life in our memories. His interaction with Gonzo and his chicken girlfriend is priceless, and his facial expressions sell the scene as only Richard Pryor can.
---
JOHN CLEESE
"The Great Muppet Caper" shipped the crew off to London, so it's no surprise that Jim Henson nabbed one of the most popular British actors and comedians, "Monty Python's Flying Circus" star John Cleese, for an extended cameo. Cleese plays a reserved British gentleman who offers up some hilariously dry commentary on the Muppets' activities around his home.
---
JOHN LANDIS
It wasn't just famous actors who made memorable cameos in the Muppets movies. For example, take "Animal House" and "The Blues Brothers" director John Landis' brief appearance in "The Muppets Take Manhattan." Landis played a movie exec who Kermit manages to snag a meeting with, and then fast-talks into accepting the costumed frog's script. Landis doesn't get to say much in his cameo, but it's one of those cool nods to the real world that Henson was so fond of including in his Muppets adventures.
---
STEVE MARTIN
Possibly one of the most memorable cameos to occur in any of the Muppets movies was Steve Martin's turn as a snarky, sarcastic waiter who serves Kermit and Miss Piggy during a scene from "The Muppet Movie." The scene is amazing for more than just Martin's awesome shorts — it's a great example of Kermit and Miss Piggy acting alongside one of the industry's funniest actors and still managing to hold onto the scene.
---
JIM HENSON
Sure, Henson was technically in nearly every shot of the Muppet movies, working the puppets, voicing characters, and so forth. However, in this scene from "The Great Muppet Caper," Henson makes a rare on-camera appearance as a guest at the fancy club where Kermit and Miss Piggy have an epic dance. Check out that epic beard!
---