"The Hunger Games" interactive photo details the doomed tributes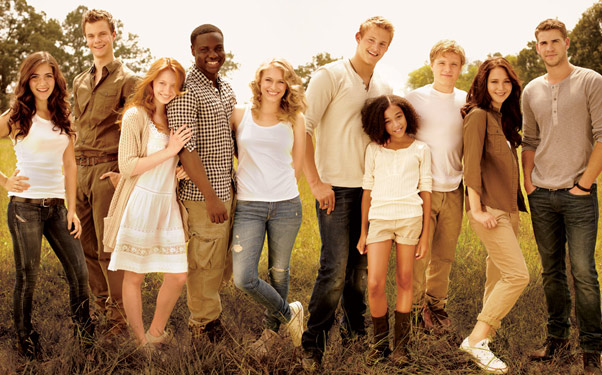 Posted by Brian Jacks on
As we march towards the March 23, 2012 release date for the eagerly anticipated adaptation of the bestselling novel "The Hunger Games," new images continue to be rolled out revealing parts of the film. This time we don't get a peek at the movie itself, but at the young cast who make up the "tributes," a friendly term for the teenagers thrown into an arena-based fight to the death.
Vanity Fair has published an interactive photo showcasing the group, with a rollover feature that describes their character and how the actor snagged the role. Nine of the primary tributes are featured, including its lead star Jennifer Lawrence who plays the main character of Katniss Everdeen, and the photo also includes the non-tribute Gale Hawthorne (Liam Hemsworth), who plays Katniss' best friend and secret admirer.
One warning about the feature, however: if you haven't read the books, the Vanity Fair photo does contain some spoilers, namely who lives and dies, so proceed with caution. The interactive image comes on the heels of character-specific posters released for the primary figures.
"The Hunger Games" follows Katniss Everdeen (Lawrence), a resident of the dystopian nation of Panem located within the ruins of the former North America. As retribution for the twelve outlying districts rising up against the Capitol nearly 100 years prior, two teenage subjects from each district are chosen to compete in the annual Hunger Games, a televised fight to the death.
Are you looking forward to seeing Hollywood's vision for "The Hunger Games"? Let us know below or on Facebook or Twitter.