It's male-oriented comedy trailer Wednesday!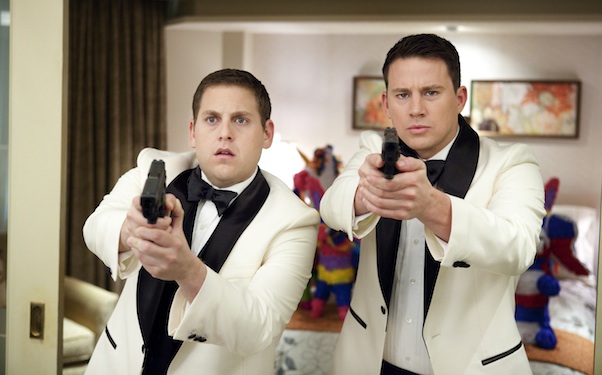 Posted by Matt Singer on
Apparently Wednesday is a good day to release trailers for male-oriented comedies, since two big ones just hit the web (also, March is apparently a good month to release male-oriented comedies, since that's when both of these movies come out).
Let's start with the film version of the 80s TV show "21 Jump Street." The movie stars Channing Tatum and Jonah Hill (who also co-wrote the screenplay) doing the ol' cops-undercover-in-high-school routine. Also, this trailer is a red bander and there's a fair amount of salty language, so be aware of that if you're about to watch this at your job, especially if you work as, like, a kindergarten computer teacher.
Here's what I like about the "21 Jump Street" trailer:
1)The chemistry between Tatum and Hill. The formula for success with buddy cop movies goes something like this: 78% chemistry of the male leads, 10% quality of comic material, 10% quality of action scenes, 2% Gary Busey. Looks to me like Tatum and Hill have a good thing going here; it also looks like they've got a good thing going with supporting players Ice Cube as their Captain and Rob Riggle as one of their high school teachers.
2)The dick punching jokes. Dick punching jokes are always funny, as long as they're not in reference to your own genitals.
3)They didn't spoil the appearance by old school "Jump Street" star Johnny Depp, who supposedly makes an uncredited cameo in the film.
It's been a good couple of years for movies that skewer cop movie clichés. It could be tough for "21 Jump Street" to compete with "Hot Fuzz" and "The Other Guys," but overall, I think it looks promising. Next up on male-oriented comedy trailer Wednesday is "Project X" from producer (and "The Hangover" director) Todd Phillips:
Here's what makes me nervous about the "Project X" trailer:
1)Found footage films are looking more and more like a permanent part of the horror genre landscape, but they've yet to find their place in the world of comedy. Adam McKay and Will Ferrell shepherded the similarly themed "The Virginity Hit" last year, and it was anything but: grossing less than $1 million in theaters.
2)This thought: do raging parties like the one depicted in this movie even exist or are they just something that happens in movies? And if the latter, how is that going to mesh with a shooting style that makes the film look like a documentary?
3)The fact that it looks the film devolves into a full-on Occupy Wall Street style riot. On the other hand, flame thrower jokes are almost as consistently funny as dick punching jokes.
Actually the riot police give me an idea. Have Tatum and Hill go undercover at the "Project X" party, then they bring in the SWAT dudes to break up all the drugging and dogs having sex. I smell a hit. Or not.
"Project X" opens on March 2; "21 Jump Street" on March 16. Which do you want to see more? Tell us in the comments below or on Facebook and Twitter.