"The Dark Knight Rises" New York shoot features Batman brawling with Bane mid-riot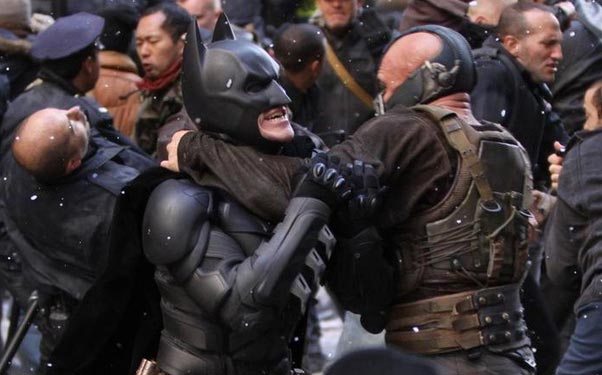 Posted by Terri Schwartz on
It seems like Bane hasn't broken the Bat yet. Tom Hardy and Christian Bale were caught brawling again on the set of "The Dark Knight Rises" over the weekend, and judging by the pictures and videos released, it looks like Batman was giving as good as he was getting. But they weren't the only people roughing it on the streets of NYC.
At long last, Christopher Nolan filmed the big battle sequence on Wall Street over the weekend. Originally the plan was to bring in extras from Occupy Wall Street, but that idea was later scrapped. Based on these images from the set, though, it looks like bringing protesters in to film the big brawl sequence would have been a good way to get out some of their pent up aggressions. Cameras by the New York Stock Exchange also caught Joseph Gordon-Levitt doing crowd control as one of Gotham City's finest.
This isn't the first big showdown between the cops and the masses that has been filmed for "The Dark Knight Rises." Clearly tensions have reached a peak in the final installment of Nolan's Batman trilogy. It's unclear what part of the movie these scenes take place in, but at least fans can look forward to more than one epic showdown between Batman and Bane. But where are Anne Hathaway and Marion Cotillard in all of this? Maybe they don't want to risk the pain Bane is sure to bring in this battle sequence.
"The Dark Knight Rises" hits theaters July 20, 2012.
Are you looking forward to "The Dark Knight Rises"? Let us know in the comments section below or on Facebook and Twitter.