Countdown to Top Ten 2K11: "The Arbor"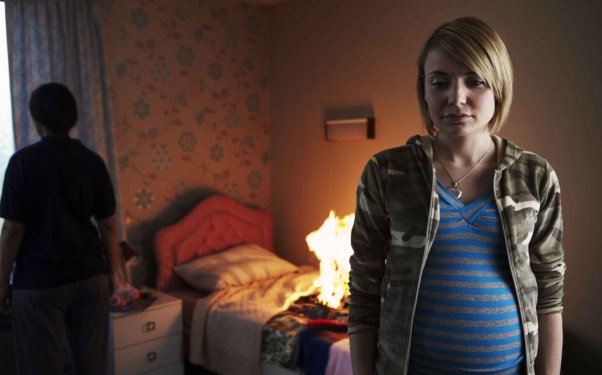 Posted by Matt Singer on
Countdown to Top Ten 2K11 is a column with one simple goal: to help you decide what films you need to see before making your end of the year top ten list. Each installment features my thoughts on a critically acclaimed 2011 movie, a sampling of other critics' reactions, the odds of the film making my own list, and the reasons why it might make yours.
This time we're covering "The Arbor," an unusual blend of documentary and fiction techniques. But is it more than the sum of its unique formal parts? Let's find out.
Movie: "The Arbor"
Director: Clio Barnard
Rotten Tomatoes Score: 95%
Plot Synopsis: A documentary about the life of English playwright Andrea Dunbar, who died at the young age of 29, and the children she left behind.
What the Critics Said: "Ingenious," Scott Tobias, The A.V. Club
"Tough, worthy stuff," Joshua Rothkopf, Time Out New York
"Make[s] us wonder if the art was worth the suffering," Anthony Lane, The New Yorker
Were They Right? Yes, there is art here. And suffering, too. "The Arbor" may not be the best movie of 2011, but it might the best movie you won't want to see again anytime soon. It's in the great tradition of movies like Darren Aronofsky's "Requiem for a Dream" or Terry Zwigoff's "Crumb" — great films that are almost too brutal for their own good, and certainly too brutal to sit through multiple times.
Actually, "Crumb" is a good point of comparison: both films are portraits of artists and their deeply dysfunctional families, along with the coping mechanisms developed by siblings to deal with the abuse or neglect of their booze and drug addicted parents. In this case, the artist is Andrea Dunbar, a kid from the mean streets of Northern England. Her first highly autobiographical play, "The Arbor," was written when Dunbar was just fifteen years old; it went on to play the Royal Court Theatre in London. Her second play, "Rita Sue and Bob Too," was turned into a film by Alan Clarke. But success didn't solve Dunbar's personal problems; she descended into alcoholism and died of a brain hemorrhage before she reached the age of 30, leaving behind three children fathered by three different men. One of those kids, Lorraine, would grow into an equally troubled woman, with her own addiction and parenting problems. One life that sad would make any film troubling. "The Arbor" has two of them.
What separates "The Arbor" from other effed up family docs like "Crumb" is its use of an unorthodox technique called "verbatim theater:" actors play the subjects of the documentary, lip-synching to audio recordings the real subjects gave during interviews with director Clio Barnard. So instead of seeing Lorraine talk about her heroin abuse, we see an actress (Manjinder Virk) mouthing Lorraine's words precisely, down to the last breath, pause, and stutter. It sounds potentially distracting because you expect you'll be focusing all your attention on the accuracy of the lip-synching. But in action the effect is surprisingly immersive: verbatim theater opens up the visual side of the documentary format and allows for a more poetic interpretation of the events. Instead of a series of bland sitdown interviews, the actors, shot on location in Dunbar's hometown of Bradford, are free to address the camera directly or to look away when they're embarrassed or contemplative. It makes you feel more like a participant than an observer, and it draws you even deeper into the drama.
Barnard also splices in old documentary footage of the real Dunbar and her family and stages scenes from Dunbar's "The Arbor" in the open air square in the middle of Bradford, where the town's current residents and some of the lip-synching actors gather to watch in the background. Dunbar used the form of a fictional play to tell true stories of her life and her community. Barnard uses verbatim theater to do much the same thing on film: the people we're seeing are actors, the setups and angles are carefully composed, but the stories are 100% real. I would not be surprised if Werner Herzog, who admits to occasionally massaging the facts in his own documentaries in order to achieve a higher "ecstatic truth," would envy the truths "The Arbor" possesses.
Those stories of abuse — drug, sexual, and child — are so gut-wrenching they can be hard to endure, but there is unexpected beauty in "The Arbor" too, particularly in the sight of the actors as they wander the streets and houses of modern Bradford like spirits haunting the current residents. Though the actors don't technically speak a word, their performances are outstanding, with Virk especially devastating as the traumatized, world-weary Lorraine. Can a performance in a "documentary" win an Oscar? Probably not, but in this case, maybe it should.
Was the art worth the suffering in the case of Andrea Dunbar? I don't know. But in the case of "The Arbor," the suffering is worth it to appreciate the art.
Worthy of an Oscar Nomination For: Best Documentary, Best Supporting Actress (Manjinder Virk)
Chances of Making My Top Ten: Almost as good as the chances of me running into the other room and hugging my wife and telling her I love her after surviving the emotional ringer that is this movie.
It Might Make Your Top Ten List If: you're interested in documentaries as an art form; you're not put off by grim tales of bad junkie behavior; you like British accents that are so thick they come with their own subtitles.
Previously in Countdown to Top Ten 2K11
"Cold Weather," directed by Aaron Katz
"Meek's Cutoff," directed by Kelly Reichardt
"Margin Call," directed by J.C. Chandor
"Bill Cunningham New York," directed by Richard Press
"Hanna," directed by Joe Wright
Have a movie you wanted covered in a future installment of Countdown to Top Ten 2K11? Let me know on Twitter.