Terrence Malick shooting two new films back-to-back in 2012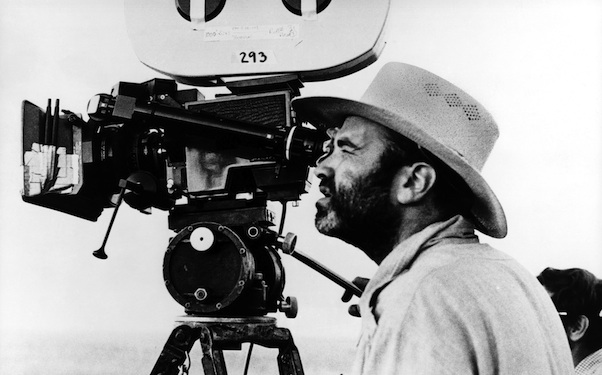 Posted by Matt Singer on
Terrence Malick has been replaced by a pod person.
Okay, so technically I don't have any proof that the director of "Days of Heaven" and "The Tree of Life" has been kidnapped, imprisoned, and replaced by an exact alien duplicate (viva the journalistic standards of blogs!). But how else do you explain this weird and completely uncharacteristic explosion of productivity? "Tree of Life" this year, a still-untitled feature with Ben Affleck next year, and now two more productions that were announced yesterday in a press release. They're called "Lawless" and "Knight of Cups" and both star Christian Bale and Cate Blanchett with a big-time co-starring assist from Ryan Gosling on "Lawless." From the press release:
FilmNation Entertainment is continuing their relationship with acclaimed director Terrence Malick ("The Tree of Life," "The Thin Red Line") and handling international sales and distribution on his next two films. "LAWLESS" will star Ryan Gosling ("Drive," "The Ides of March") and boasts a supporting cast that includes Academy Award Winners Christian Bale ("The Dark Knight," "The Flowers of War"), Cate Blanchett ("The Hobbit," "The Curious Case of Benjamin Button) plus Rooney Mara ("The Girl with the Dragon Tattoo," "The Social Network") and Haley Bennett ("Marley & Me," "The Haunting of Molly Hartley").

The second film, "KNIGHT OF CUPS," will star Christian Bale with a supporting cast including Cate Blanchett and Isabel Lucas ("Immortals," "Transformers: Revenge of the Fallen"). Both films are currently in pre-production and will shoot back-to-back in 2012.
According to The Playlist, "Lawless" is the project that Malick and Bale were seen shooting at the Austin City Limits festival earlier this year. But as you see there at the bottom both films will shoot "back-to-back" next year. Malick's going all "Matrix" sequels on us! Crazy.
Speaking of Malick movies, The L.A. Times also has a few more details on that still mysterious Affleck-Malick collaboration that's already shot and is currently being edited. Though they note that these things can change, as Malick's films often look vastly different than the screenplays they're based on, here's how the Times describes the plot:
"Basically, it concerns a philanderer (Affleck) who, feeling at loose ends, travels to Paris, where he enters a hot-and-heavy affair with a European woman (Olga Kurylenko). Said Lothario returns home to Oklahoma, where he marries the European woman (in part for visa reasons). When the relationship founders, he rekindles a romance with a hometown girl (Rachel McAdams) with whom he's had a long history.
Something something, dinosaurs. The end.
I kid because I love. I wasn't crazy about "The Tree of Life," but I am crazy about the idea of all these new movies from the suddenly prolific Terrence Malick. Whoever he really is.
Are you excited by all the Terrence Malick productivity? Or do you prefer the one-movie-every-eight-years version? Tell us in the comments below or on Facebook and Twitter.