Is Takashi Miike's "Phoenix Wright: Ace Attorney" the "Scott Pilgrim" of Japanese cinema?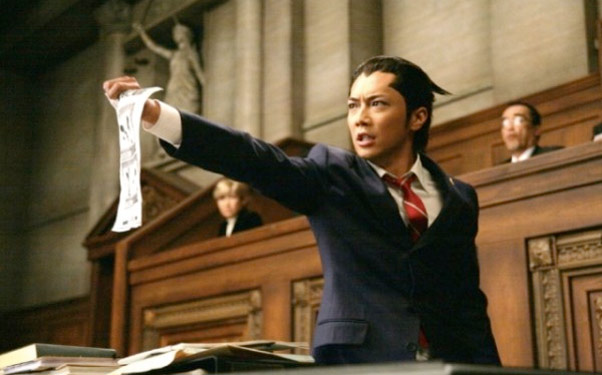 Posted by Brian Jacks on
While I'm a fairly big video gamer, I never owned a Nintendo DS, and because of that, I never really got a chance to play one of the system's most unique titles, 2005's "Phoenix Wright: Ace Attorney." Combining both touchscreen and microphone support, "Phoenix Wright" allowed you to play as an ambitious defense attorney, navigating through investigations and trials as you attempted to absolve a series of rotating clients. The game was highly praised for its innovative gameplay and its ability to bring a true crime drama to a handheld device.
Back in June we told you that acclaimed director Takashi Miike was set to direct the Japanese adaptation of "Phoenix," and now we have the first trailer. While there are no English subtitles, one thing is clear: Miike is determined to integrate the game's fundamental look and feel into his film. Graphics flutter across the screen and the characters' exaggerated expressions have all transitioned their way to the movie.
All that immediately raises comparisons to another genre film, last year's "Scott Pilgrim vs. The World." Director Edgar Wright won fan raves by sticking to much of the comic book's original essence and adding in substantial video game elements, such as sound effects, graphics and quick cuts that simulated comic panels.
Miike's "Phoenix Wright" does resemble "Pilgrim" — at least the trailer does — which raises the question: can his film succeed where Edgar Wright failed? Much of what made diehard fans love "Scott Pilgrim" — all those aforementioned nods to the source material — managed to turn off regular audiences, and the film was a high-profile box office bomb. Obviously Miike is dealing with a different audience, but "Scott Pilgrim" died a quick death in Japan as well. Was that because they didn't know the comic book? Or were they as turned off by the filmmaking style as American audiences?
We don't know yet how representative the trailer is of the rest of the film, but Miike is walking the same tightrope as Edgar Wright. He does have more things working for him, though. The Japanese market is obviously much smaller than North America, meaning if even a fraction of those who purchased the games turn out to theaters, it could be enough to float the film. Also, the Japanese public as a whole is more technology-geared than Americans and the country also houses two of the largest console makers, meaning a movie that plays up its video game roots could be accepted more readily.
Overall though, the movie's success will probably boil down to whether it tells a good story. But as Edgar Wright found out, sometimes wrapping that story around a completely faithful ode to the source material could spell the difference between a film's life and death.
Let us know your thoughts on the "Phoenix Wright" movie in the comments below, or on Facebook or Twitter.