"Snow White and the Huntsman" trailer debuts, looks surprisingly cool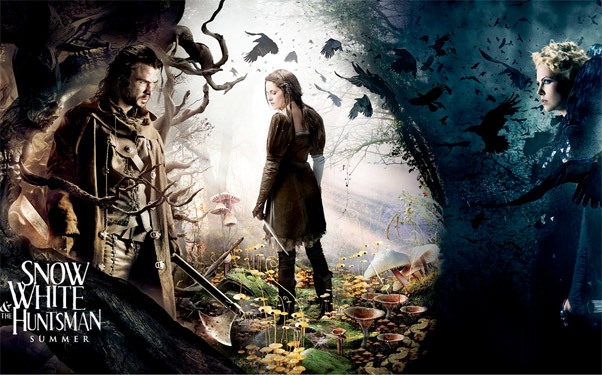 Posted by Terri Schwartz on
The trailer for "Snow White and the Huntsman" hit the web today, and it certainly looks closer to "The Lord of the Rings" films than it does to Disney's "Snow White" adaptation. Starring Kristen Stewart as Snow White, Chris Hemsworth as The Huntsman and Charlize Theron as the Evil Queen, the action-packed fantasy film seems to be following through on its promises to bring an adult twist to the classic fairy tale.
There are two things that it's clear that Universal is trying to separate their "Snow White" film from in this trailer. First, it's definitely not going to have anything similar to Tarsem Singh's action comedy "Mirror Mirror" other than its titular heroine. "Snow White and the Huntsman" is battle-heavy, and I personally am glad for it, because if there's one thing commercial director Rupert Sanders is good at it is beautifully stylized violence.
But it's also clear from the limited screen time that Stewart gets in the trailer that Universal is trying to emphasize that this film isn't only for the "Twilight" audience. In fact, Stewart doesn't get one single line in the trailer. Instead, it's Theron's Evil Queen dictating why and how she wants Snow White to die cut against shots of Stewart's maiden fair transforming from damsel in distress to battle-ready action heroine.
The trailer even had a few shots of Sam Claflin as the film's Prince Charming (who, as you can probably guess, isn't so charming after all), but if there's one thing that's noticeably lacking from the promotion it's the story's seven eight dwarves. Hopefully it's because Universal wanted to focus on the flick's main three characters and it's not because the dwarves are comical, but only time will tell. At least the trailer did include an iconic shot of Snow White passed out in the snow with the poisoned apple next to her hand. But who is it that kisses her to wake her from her slumber?
"Snow White and the Huntsman" his theaters on June 1.
Did "Snow White and the Huntsman" convince you that it's going to be a fantasy epic to look forward to? Tell us in the comments section below or on Facebook and Twitter.