"Sleepless Night," another Fantastic Fest favorite, also coming to U.S. theaters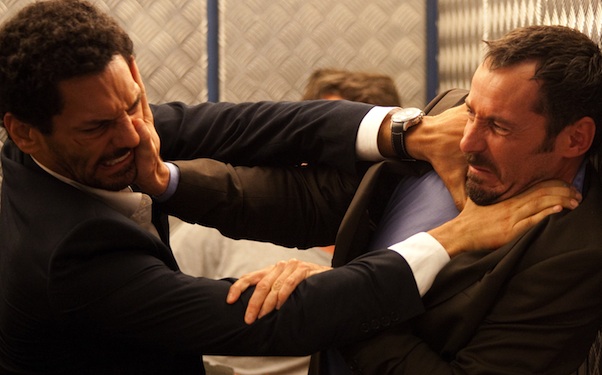 Posted by Matt Singer on
Well it's been a good Friday for Fantastic Fest films. Earlier today I told you how the Danish comedy "Clown" was picked up for U.S. distribution (along with Belgian drama "Bullhead") by Drafthouse Films. A few hours later, Tribeca Film announced they'd picked up "Sleepless Night," my absolute favorite movie I saw at Fantastic Fest 2011, for release next year. When it rains, it pours. And right now it's pouring terrific genre movies from all over the world.
From Tribeca's press release:
Tribeca Film announced today that it has acquired all US rights to "Sleepless Night," a gripping action thriller which had its World Premiere in the Midnight Madness section of the 2011 Toronto International Film Festival. The film, directed by Frédéric Jardin, will be released in 2012 on VOD and theatrically by Tribeca Film… Warner Bros. recently announced it has acquired English-language remake rights.

"Sleepless Night" tells the story of Vincent, a respected and dedicated police officer, or so it seems. After stealing a massive bag of cocaine from drug dealers that work for Marciano, a powerful mob boss/nightclub owner, Vincent quickly finds himself trapped in a situation that no parent would envy- his son has been kidnapped with the promise of being executed if he doesn't immediately deliver the bag back to its rightful owner. As Vincent heads to the nightclub in the outskirts of Paris to trade the drugs for his son, he soon gets caught in an intense, claustrophobic cat-and-mouse game that quickly spirals into madness as the tables are constantly turned multiple times throughout the evening. The night to come might not only be the longest but also the last one of his life… and his young son's as well.
Unlike the "Clown" press release, this one doesn't quote from my review of the film here on IFC.com. It's a little wordy, but they could have stolen this line: "After a long day at Fantastic Fest, a midnight screening of "Sleepless Night" woke me up more effectively than any cup of coffee I've ever had in my life." That's absolutely true; I couldn't sleep after I saw it. This movie is like speed. The drug, not the movie. Actually, come to think of it, it's a little like both.
As the release says, Warner Brothers already owns the rights to remake the film in English — all of us at Fantastic Fest agreed it would be a no-brainer as the next Denzel Washington/Tony Scott team-up — but even if the American "Sleepless Night" gets made and is halfway decent, you need to see the original. It's an incredible action film. I can't wait to see it again next year.
What's your favorite French action thriller? Tell us in the comments below or on Facebook and Twitter.