Rob Marshall says Johnny Depp's "The Thin Man" isn't a remake, movie version of "Wicked" would pull from stage and book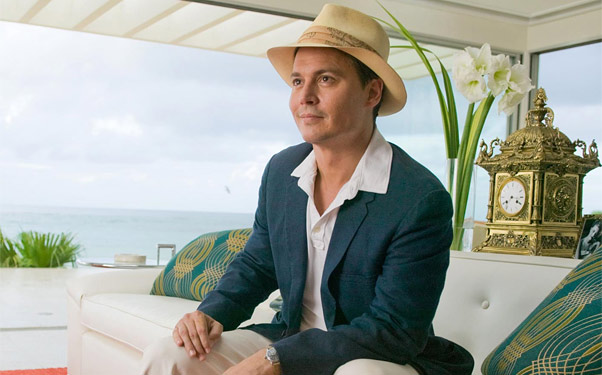 Posted by IFC on
Nick still needs a Nora.
A new version of Dashiell Hammett's "The Thin Man" is moving forward, and director Rob Marshall has made key decisions about what the film will be like — but some questions remain, such as who will play Johnny Depp's wife?
"I think anticipation [for the film] must be high," Marshall said while attending the Princess Grace Awards gala last week in New York. "People are even asking me, 'Are you going to write it?'"
Marshall won't be handling those duties — screenwriter Billy Ray ("The Hunger Games," "Shattered Glass") is now aboard, after Jerry Stahl ("Permanent Midnight") and David Koepp ("Premium Rush," "Indiana Jones and the Kingdom of the Crystal Skull"). "It's funny that those writers were even announced," Marshall said, "because we hadn't really started with either of them, with Jerry or David. Neither had written a word. Billy is the first writer who's actually writing a draft."
Ray's draft is not a remake of "The Thin Man," Marshall said, but "a reimagination." Hammett's novel, published in 1934, has been transformed into television shows, radio programs, stage plays, Broadway musicals, and movies, taking place in eras from the original 1930s to the 1950s.
"We'll be setting it in the '30s," Marshall said, "because it is of that world. It's an era that we have a great affinity for. I think both [producer and partner] Johnny DeLuca and I feel like we were born in the wrong era, and Johnny really feels like he lives in the '30s. So we're going to be able to inhabit a world that we really, truly love … in the time of speakeasies, one of those rich, beautiful times in America."
The story centers on "these incredible characters, these iconic characters that have been with us for many years," as Marshall called them: Nick and Nora Charles, a married, wealthy, and witty detective duo, who inspired later sleuthing couples in Moonlighting, Remington Steele, and Hart to Hart, among others. In a series of six films, Nick and Nora Charles were "brilliantly played" by William Powell and Myrna Loy, as Marshall put it. In his version, Nick would be Johnny Depp — but who would be Nora?
Marshall said Nora remains to be cast, but whoever plays her needs to have "humor and an effortlessness," as well as "elegance." That's not something that's easy to find!" Marshall said. "It's about this relationship. The core of all these wonderful thrillers is always that great relationship with each other. That's what drew us to it, and what drew Johnny to it."
A nightclub scene might bring a musical number to the film, but the film itself will not be a musical, Marshall said. "I don't know if Johnny will be part of the music part of it," he said, "because it has to be organic to the story."
Marshall plans to start shooting next year, with a targeted 2013 release. Meanwhile, the director is still in the running for the screen adaptation of "Wicked," for which he says there is "no rush," despite Brett Ratner's recent entreaties that he get to take it on instead.
"They're looking to establish the rights from 'The Wizard of Oz,' which is complicated, so they have the flexibility to do everything they need to do with the film," Marshall said. "[Producer] Marc Platt is a great, dear friend of ours, and I've met with the writers, and they're incredible. They want to do it right."
The film version would pull from both the stage production as well as Gregory Maguire's book, he said. "There's a lot of material to work from," he said. "It's a film! So you've got to approach it differently, from a different angle. It's what gives you so much more flexibility, and what makes it scary, too! That's the tricky part."
Let us know what you're hoping to see from "The Thin Man" and "Wicked" movies in the comments below, or on Facebook or Twitter.