Ridley Scott confirms "Prometheus" is an "Alien" prequel of sorts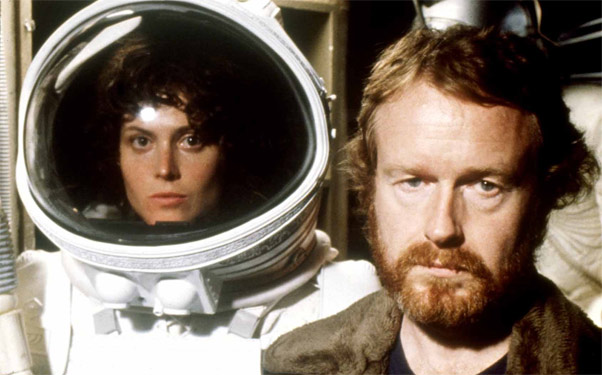 Posted by Terri Schwartz on
Ridley Scott has been notoriously tight-lipped about his long-awaited return to sci-fi with "Prometheus," but now he's finally starting to spill the beans. It's long been known that the movie is some sort of "Alien" prequel (sort of, maybe) and that it stars Michael Fassbender, Charlize Theron and Noomi Rapace. But beyond that and the one image released of the film, Scott has kept mum on what the 2012 flick entails.
Until now, that is. The "Alien" director chatted with The Wall Street Journal and was so excited about "Prometheus" that "you can hear the enthusiasm in his voice." Turns out that the movie really is a prequel to "Alien"…. sort of. He told WSJ that the last eight minutes of "Prometheus" evolve into "a pretty good DNA of the 'Alien' one," but the rest of the movie stands on its own.
And the rest of the movie sounds pretty darn epic. Scott explained that the central metaphor of "Prometheus" is about a "higher being" challenging the gods, much like the mythological god Prometheus did. "Fire is our first form of technology," Scott explained, and so his main character steals "fire" from the gods just like his mythological counterpart. As a result, he is punished "in perpetuity in a horrible fashion."
The script comes from Damon Lindelof and Jon Spaihts, and Scott said that it was that screenplay that really got him excited for the project.
"I think the reason why I haven't attempted science fiction in a number of years is because I haven't really come across a script that I really liked," he said. "This developed and came out extremely well."
He also was thrilled for his first chance to work heavily with 3D and CGI. Scott called "Prometheus" "the best time I've had in a number of years making a movie." But just because he has "completely taken off into this cyberworld," Scott also created a lot of the sets himself without the assistance of computer-generated images.
Oh, and for those of you hoping that "Alien" star Sigourney Weaver is going to be making an appearance in this movie, you're out of luck. Scott confirmed that she's not going to be making a cameo in "Prometheus."
Are you excited for "Prometheus"? Sound off in the comments section below or on Facebook and Twitter.