Ricky Gervais returning as Golden Globes host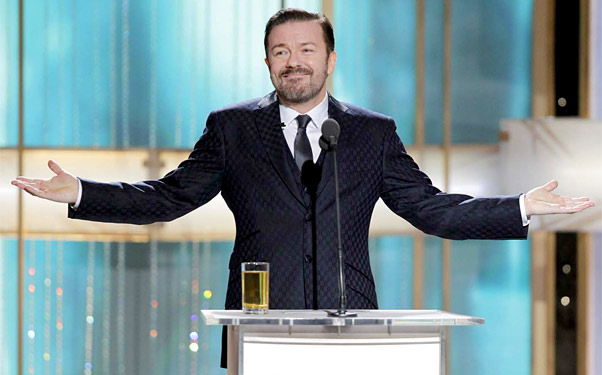 Posted by Brian Jacks on
The Oscars haven't been the only high-profile 2012 awards show searching for a host. After what must have been considerable backroom discussions, the Hollywood Foreign Press Association has announced that British comedian Ricky Gervais will be returning the Golden Globes stage for the third straight year.
Oddly enough, when Gervais mentioned in February that the Globes were inviting him back, the HFPA quickly responded with the claim, "There is no truth to this rumor. We have not asked him to come back."
For those who don't recall, a fairly massive firestorm erupted after last year's event when Gervais was chastised by his celebrity peers for essentially being too hard on them during his hosting duties. The comic, well known for his biting humor, didn't hold back throughout the show, mocking everything from "The Tourist" getting nominated after Sony paid for Globe voters to fly to Vegas and attend a Cher concert, to referring to the HFPA's president with the line, "I just had to help him off the toilet and pop his teeth in." Gervais was roundly applauded by fans for creating one of the funniest Globes in recent memory, but his relationship with the HFPA seemed at an end. Apparently not.
In a statement, the HFPA said, "While many welcome Gervais's return, not everyone is happy with the decision because last year his blunt one-liners targeting big-name celebrities caused anger and resentment in some quarters. After the show Gervais dismissed the possibility of coming back for a third time, but he gradually warmed to the idea and last month met with HFPA President Dr. Aida Takla-O'Reilly in Paris to discuss it. He said recently that the idea of going back behind the podium 'is very tempting.'"
Gervais responded to the news via via Twitter, saying, "Just told Billy Crystal he'd better not use any of my holocaust or pedophile material at The Oscars. He agreed (true)." The tweet included a seemingly just-taken photo of Gervais with Crystal, followed quickly by an image of Gervais lighting up a cigar in a sea of fire.
The 2012 Golden Globes will air live January 15th on NBC.
What do you think about Gervais returning to the Golden Globes hosting podium for a third time? Will that make you tune in? Let us know below or on Facebook or Twitter.