The Revenge of the Nerds: How the 80's movie foretold the rise of Geek Culture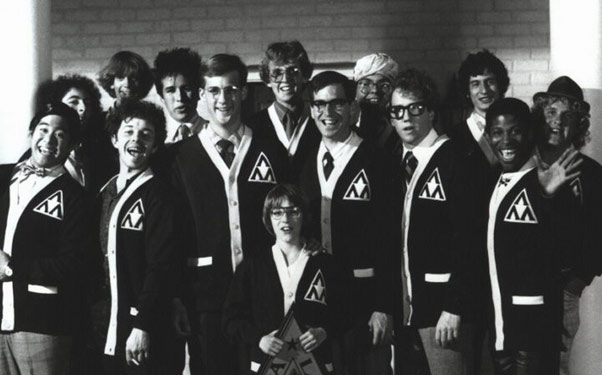 Posted by Ron Mwangaguhunga on
"Revenge of the Nerds," that significant 80s cultural artifact, was a genuinely prophetic film. At the time of its release in 1984 it was morning in America and a muscular foreign policy against the then-Soviet Union nudged popular culture to valorize brawn and social ease and raw good looks. Introspection and lusting in one's heart was of the previous, melancholy Carter years. In "Revenge of the Nerds," a lovable gallery of geeks challenged the primacy of the cool crowd to the rousing anthem "We are the Champions."
Fast forward. Raw good looks and brawn, of course, will never go out of fashion entirely. There will always be sports stars; there will always be financiers; there will always be Vogue magazine and fashion week. But there is also now an information economy — one of the few remaining sectors of our economy still flourishing — and a new-found respect for people like Steve Jobs, who made it cool to be creative, and Bill Gates, who makes it cool to save the world. Even our President, a self-avowed Trekkie, has made it cool to be perpetually wonkish. And former band nerd and President Bill Clinton channels his inner Superman daily in dealing with global inequalities.
But it is Hollywood that is the ultimate proving ground for cool – on a global level. It is why even a global star like Jackie Chan wants to make it here. Hollywood's A-List – the Depps, the Jolies, the Berrys – epitomize what it is that we all want to emulate. Hollywood exudes cool. Nowadays that cool, incredibly, seeks the approval of the geeks.
Look at who is Hollywood Royalty now. Steven Spielberg: geek; James Cameron: geek; JK Rowling: geek; Oprah Winfrey: geek; Anne Sweeney: geek. Further, the great myth-makers – George Lucas and Peter Jackson and John Lassetter – are so utterly geek that they are as interested in the technical side of film-making as they are in the storytelling.
Comic-Con's triumph, perhaps more than any other single event, signals the rise of the nerds. Niche programming is the hallmark of this fragmented digital age, and geeks are a highly educated and valuable demographic. It not so long ago that at some imaginary Comic-Con like event geek icon William Shatner, in his infamous SNL parody, asked the citric question: "Have you ever kissed a girl?" Such a question, while perfect for 1986, would never be asked now because the lords of Hollywood are too busy trying to win the approval of those "avids" – the film-goers formerly known as nerds.
Chris Nolan, perhaps the most famous nerd made good, rescued the Batman franchise. Nolan made Batman cool and borderline psychotic again. Perhaps it takes an avid – an intensely interested fan – to understand the psychology of an obsessive personality like that of the Bruce Wayne/Batman character. George Clooney and Val Kilmer (both consummate Hollywood player Joel Schumacher's choices), two of the most handsome men of the age, had run the damn thing into the ground. They made Batman look too freshly-fucked. It was the case of too much Bruce Wayne – the lie — and not enough Dark Knight.
Joel Schumacher's solution was to focus more on the movie-star looks of the leads, sacrificing story for one-liners and tongue-in-cheek quips. It was like Schumacher thought of Batman through the outmoded lens of the swashbuckling swordsman of Hollywood yesteryear and not through the gritty prism of Frank Miller. I'm fairly sure neither Kilmer nor Clooney ever read a Detective comic previous to making the film, just as much as I'm fairly sure that Chris Nolan did. Thus the broody Christian Bale, another avid formerly known as a nerd, was the inspired choice to carry the franchise forward.
Comic book movies are Hollywood tent poles because they perfectly combine action and story. Their heroes fight against the odds and they are more at home when they are saving the world than in everyday social situations. Nerds, of course, have always known this. The Sam Raimi's of the world were always wondering whether or not Mary Jane and Peter Parker would ever get together, whether Spider-man would ever balance the lives of both the spider and the man. And now they have the power to make it so.
Are you through being cool? Tell us in the comments below or on Facebook or Twitter.