Exclusive: Ralph Fiennes says "Skyfall" will be a special Bond film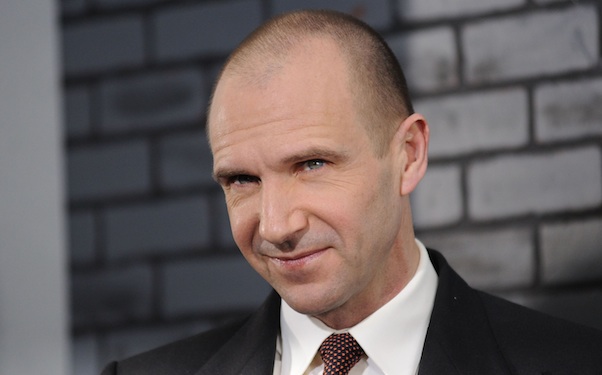 Posted by Matt Singer on
Talk about fortuitous timing. Earlier today at a press conference, Eon Productions officially announced the 23rd James Bond film, "Skyfall," as well as its full cast list: Daniel Craig, Javier Bardem, Judi Dench, Naomie Harris, Albert Finney, and Ralph Fiennes. A few hours later, I happened to be chatting with Fiennes about "Coriolanus," his fascinating debut as a film director. As a huge Bond fan, I had to use the last few minutes of our interview to hear what he had to say about the film, which goes into production next week.
"If you're a Bond fan," Fiennes told me when I confessed my 007 obsession, "then you'll be happy. I can tell you that John Logan has written a fantastic screenplay and [director] Sam Mendes is a class act. They're doing something quite special I think. I think they're going to be great for Bond."
Fiennes is a Academy Award nominated actor, but is he a Bond fan? "I love the Bond books particularly," he said. "I like the books even more than the films. I like the darkness of the books. But I've also enjoyed all the films." Fiennes also told me he vividly remembers the first Bond he ever saw: 1969's "On Her Majesty's Secret Service" with George Lazenby.
Darkness is a word you hear a lot in relation to Craig's Bond films, but I'd read some speculation that Mendes' take on the character may be even darker than the one in "Casino Royale" and "Quantum of Solace." So I asked Fiennes if he thought that Mendes and Logan were bringing some of the "darkness" he loves from the books to "Skyfall."
"No, for me the books' darkness comes from their period nature," he replied. "I always wished they'd done a Bond set in 1955 in the Cold War like a Graham Greene novel. But no, this is just a great piece of screenwriting and the human drama at the center of this is quite affecting. And it's full of amazing stunts and action sequences."
Will he get to join in on the stunts and action sequences? Fiennes took a long pause. "I can't answer that question," he said. "I don't get laid, that's for sure." That might be a clue, or it might not be — typically Bond's the guy who gets laid in James Bond films; that's why they're called James Bond films.
If I can put on my fan hat for a moment, here's my totally unsubstantiated speculation. Bardem is confirmed as the main villain of "Skyfall" and there have been some hints that he might be playing the new version of Ernst Blofeld, Bond's arch-nemesis from all the old Sean Connery films. But it took three movies to see Blofeld's face onscreen during the original run of Connery Bonds; in "From Russia With Love" and "Thunderball" he was just the mysterious evil mastermind lurking in the shadows stroking a cat. I have a hunch Bardem works as a lieutenant for Blofeld, who's played by Fiennes. I mean come on: who'd be a better Blofeld than Lord Voldemort? Nobody I can think of.
We'll see if my guess is right on November 9, 2012 when "Skyfall" hits theaters. In the meantime, look for more of my interview with Fiennes about "Coriolanus" closer to its release on December 2. It's not Bond, but it's a very interesting movie.
Who do you think Ralph Fiennes is going to play in "Skyfall?" Give us your guesses in the comments below or write to us on Facebook and Twitter.