Quentin Tarantino's "Django Unchained" adds RZA and Anthony LaPaglia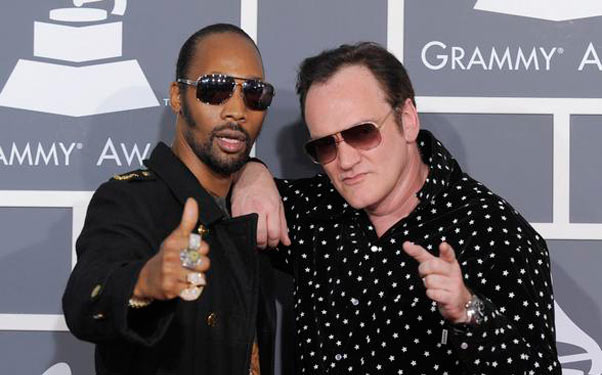 Posted by Aubrey Sitterson on
It's kind of a foregone conclusion that "Django Unchained" is going to be our favorite movie of 2012. Not only are we unapologetic, dyed-in-the-wool, completely-committed, never-been-done-wrong Quentin Tarantino fans, but the film, about a former slave out for revenge in the deep south, has an absolutely killer cast. And that cast just got even killer-er, with the addition of three new actors, including Tarantino collaborator and Wu-Tang mastermind RZA.
The cast for "Django Unchained" is already massive and super-impressive, including Jamie Foxx as the lead, Leonardo DiCaprio, Christoph Waltz, Samuel L. Jackson, Don Johnson, Joseph Gordon-Levitt and more. But Variety has now reported that both RZA and Misty Upham have joined the production. RZA has worked with Tarantino before, composing the score for both "Kill Bill" movies, and is currently filming his own Tarantino-produced kung fu flick "The Man with the Iron Fists," which incidentally, sounds like it will be our second favorite movie of 2012. According to Variety, "RZA will play Thaddeus, a violent slave working on a Mississippi plantation." Meanwhile, Misty Upham of "Frozen River" fame will portray Minnie, the owner of a "trading post-bar."
In related news, Deadline carried the exclusive news that Anthony LaPaglia will also be joining the "Django Unchained" cast. LaPaglia, who is likely best known as the star of the CBS drama "Without a Trace," will get a chance to whip his natural Aussie accent back out as he takes on the role of "the leader of a group of greedy Australians who encounter slave-turned-bounty hunter Django." His character is apparently the brother of Joseph Gordon-Levitt.
What do you think about the cast for "Django Unchained"? Are you excited, or still a little disappointed that the Django role didn't go to Will Smith or Idris Elba? Tell us in the comments below or on Facebook or Twitter.