Primus' "Tragedy's A'Comin'" video premiering on IFC.com this Thursday – here's a look back at other milestones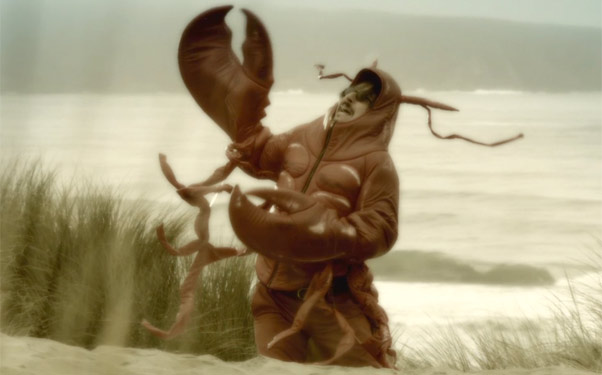 Posted by IFC on
For more than 20 years now, the almighty Primus have served as one of rock's quirkiest bands — and frontman/bassist Les Claypool, one of music's most imaginative storytellers.
The latest single from the group — rounded out by Larry "Ler" LaLonde on guitars and drummer Jay Lane — "Tragedy's A'Comin'" also tells a story, as does its video…which features lobsters, astronauts, impromptu restaurant dancing, and Claypool in a lobster costume, rolling around on the beach. We'll be premiering the video for "Tragedy's A'Comin'" this Thursday at 8am ET right here on IFC.com, but today we're taking a look back at our favorite releases from the band's decades-long run.
Primus released their seventh studio set, "Green Naugahyde," back in September.
Most fans and music historians would agree that Primus — who fall somewhere between prog rock and funk metal — never truly "got their due." Perhaps not fully appreciated. They've never been traditional rockers, but have always been exceptional musicians.
In Primus' skillful songs, no one instrument ever takes center stage, despite Claypool's standing as one of the best to ever hoist a bass. All instruments are presented at equal volume on studio recordings, with Les' unconventional vocals — if anything — being downplayed.
For those not in the Primus loop, we present a quick eduction in the form of five incredible songs you need to hear by this band…that aren't "Wynona's Big Brown Beaver" or "Jerry Was A Race Car Driver."
---
"Those Damned Blue-Collar Tweekers," from 1991's "Sailing The Seas of Cheese":
The song contains one of the most infectious lines ever ("Truckers on the interstate have been known to ride the rails" gets stuck in my head all the time), which is soon followed by the funkiest bass lick you've ever heard.
---
"Have a Cigar," a cover of Pink Floyd's classic song, from 1992's "Miscellaneous Debris":
This may be one of the greatest covers ever, if only for the simple fact that it isn't a carbon copy, and still, finicky Pink Floyd fans absolutely adore it.
---
"The Toys Go Winding Down" off of 1990's "Frizzle Fry":
Just try to beat the bass sound on this track, and then, I defy you to find punchier drum work.
---
"Over The Falls" from 1997's "Brown Album":
A slow jam by Primus standards, noteworthy for Claypool's upright bass, has become a fan favorite live.
---
"Eclectic Electric" off of 1999's "Antipop":
This is a song that will remind you of Pink Floyd on ayahuasca. Listen close for the finger plucking handiwork of Metallica's James Hetfield on the track. In addition to Hetfield's guest spot, the record features Rage Against The Machine's Tom Morello on three cuts.
---
Be sure to check out the premiere of Primus' "Tragedy's A'Comin' music video and an exclusive interview with Les Claypool this Thursday at 8am ET only on IFC.com.
Name your own favorite Primus tracks in the comments below, or on Facebook or Twitter.