Watch the exclusive premiere of Primus' "Tragedy's A' Comin'" video, with bonus Les Claypool interview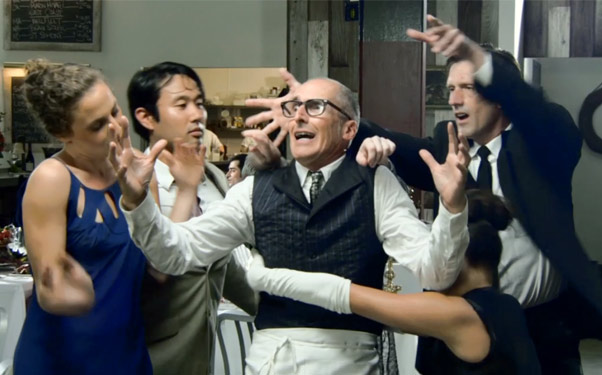 Posted by IFC on
If Primus wanted to go for the obvious, the band's new clip for "Tragedy's a' Comin'" — their first video in eleven years — could have featured any number of post apocalyptic scenarios or personal tragedies. But then they wouldn't be Primus, and we wouldn't have a lobster lament on our hands.
"Musically, it's upbeat," singer/bassist Les Claypool told IFC. "But lyrically, the song is all about impending doom. This last year has been a trying time in my world, with my mother fading away, my brother's baby boy getting diagnosed with leukaemia, and other people having various ailments. So the song is about a storm coming, the rain must fall. But to depict that would have been the cliché thing to do, so we've got lobsters."
As a lobster sits in his tank, he's forced to watch all his friends get plucked out and served up to socialites one by one, and all he can do is wait and fantasize about being on a beach, where his larger-than-life self is played by Claypool.
video player loading
.
.
.
"I spent so many years dodging goofball bullets from doing the 'Wynona's Got A Big Brown Beaver' video that I don't resist it anymore," Claypool said. "I got to put on a giant lobster suit, and that doesn't happen every day."
Claypool famously directed the "Wynona" video himself — and went on to helm several more before the band's lengthy hiatus. To get back in the groove with "Tragedy," he tried a combo of taking on some directing duties himself, but sharing the title with Mark Kohr, who lensed "Tommy the Cat" and "Jerry Was a Race Car Driver" for the band in the early '90s.
"I wrote the treatment, and I directed him when he was in it, but he's officially the director of the video," Claypool said. "Mark is one of the unsung heroes of the video world. His contemporaries are Michel Gondry and Spike Jonze, and he would have been just as massive as they are at this point in time, if an unfortunate illness in his family hadn't caused him to fall out of the film world for a bit. We're just excited to get him back in the saddle."
Kohr plays the maître d' at a restaurant who is about to serve up the unfortunate lobster. "People think it's Steve Jobs when they see him, but we made this video before he passed," Claypool noted.
Also not intended is any sort of animal cruelty statement. Claypool is an avid fisherman — hence songs such as "Last Salmon Man" and "Salmon Men" on Primus' new album "Green Naugahyde." But he's never pulled a lobster out of the water, nor does he think a lobster's culinary end is necessarily inhumane, despite it being boiled alive.
"PETA would probably hate me for this," Claypool said, "but I think it's kind of like going to sleep in a hot tub. Or like having too much wine and going to sleep."
Speaking of wine, the restaurant scenes feature vintages from the musician's own winery, Claypool Cellars. "You couldn't put any real alcohol in videos before, because MTV wouldn't play them," he said. "We thought, 'What the hell? MTV's not going to play this anyway!"
Leave your thoughts of the new Primus video in the comments below, or on Facebook or Twitter.