Exclusive premiere: Wires in the Walls "YSA"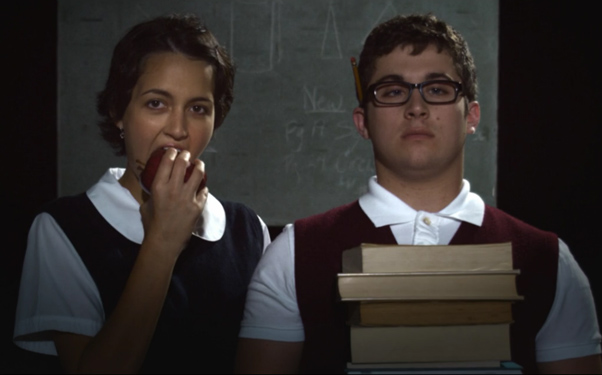 Posted by Brandon Kim on
Los Angeles quintet, Wires in the Walls, concoct jangly folk pop with joy and optimism that defies the times. Their true to form DIY approach must be their secret. The band's debut LP, "New Symmetry" dropped in October, with this nostalgic ditty "YSA," featuring Warren Sroka on vocals/guitar, Nick Tracz on bass/vocals, Bryan King on drums/horns, Dave Irelan on guitar/vocals, and multi-instrumentalist Dave Sicher cementing their presence in west coast Americana.
"A few years back, Warren played me this song on the guitar in his living room and I thought it was excellent," director Brent Willis recalls. "For me it brought up all this really powerful nostalgic teenage imagery."
video player loading
.
.
.
Now, years later when the band asked Willis to direct the video he didn't hesitate. But the director admits, "When I pitched the concept, the band was like, 'huh?' And yet, they trusted me enough to give me full reign to do whatever." The video was shot with the Red One, Willis details, "By the very creative DP, Andy Bryant and he and I worked closely from very early on. I also had the pleasure of working with AD, Joe Saroufim, Producer, Sean French, and Pros And Cons Studios. And all the while, knowing that in post I'd have the luxury of colorist, Andrew Francis' attention to detail, I was given the room to maneuver freely in any direction."
The collaboration was a success for DIY craft and passion. "So the lesson here is this, working with a really trusting band, and a tight-knit team on a perfect little love letter to nostalgia can be pretty awesome," Willis concludes. "Yeah…I highly recommend it."
Filmmaker Chris Olness and editor Erin Nordstrom (Wilco's "I Am Trying to Break Your Heart") also shot a documentary about Wires in the Walls, which you can watch here.
Are you digging Wires in the Walls sound? Are they reminiscent of anyone to you? Let us know in the comments below or on Twitter or Facebook!