Exclusive premiere: Lisa Hannigan "Safe Travels (Don't Die)"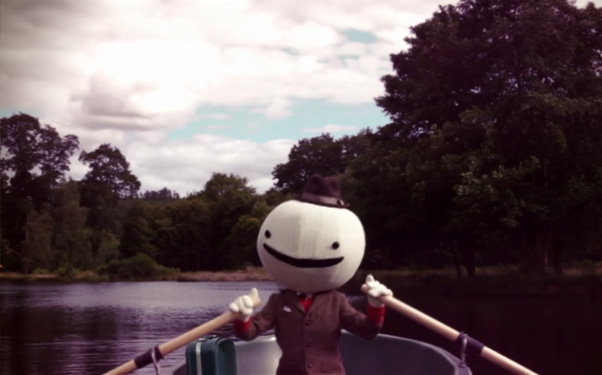 Posted by Brandon Kim on
Irish singer-songwriter, Lisa Hannigan's ditty "Safe Travels (Don't Die)" is already one of the most endearing songs released this Fall. "Please cross at the lights and / don't start fires or fights and /
dabble in heights on caffeine," Hannigan quietly frets. "Like you always say, safe travels / don't die, don't die / safe travels, don't die."
Prepare yourself now for the most adorable video of this holiday traveling season. Director's Clíona O'Flaherty and Chris Judge's magnificent video features a dapper traveler with a decidedly precarious and vulnerable looking head, whose journey is accompanied by the cutest worrywart anxieties ever set to music.
video player loading
.
.
.
"I was so stunned when I first saw this video," Hannigan told us. "Chris and Cliona, whose respective work I've always been a fan of, mentioned that they were interested in making music videos and having seen their work on 'The Lonely Beast,' I thought that 'Safe Travels, Don't Die,' would be the perfect song for their aesthetic." Hannigan was pleased from the beginning, but had no idea how beautifully it would all come together. "I saw some drawings and a rough storyboard but I was genuinely floored when I saw the finished film. The cinematography and art direction is so beautifully done, and the story, so simple and affecting, I was just blown away."
O'Flaherty and Judge said that the first time they heard this song, they were struck by it's beauty. "The lyrics and pace inspired us to create a story of travel and love," they said. "It is a universal love that has been around forever, we based the video circa 1950/60's when travel was slower which made the Safe Traveler's journey longer and his destination more rewarding."
Please let us know that you're eating your greens and not sitting too close to screens, in the comments below or on Twitter or Facebook!