'Portlandia' Hits the Road: Coming to a City Near You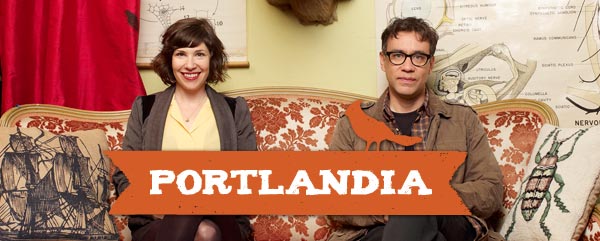 Posted by Melissa Locker on
This winter, the city of Portlandia is coming to a town near you. As we get ready for the second season of IFC's hit comedy (January 6th!), the stars and creators of "Portlandia," Fred Armisen and Carrie Brownstein, are hitting the road and heading out on a six- city tour.
The tour will feature Fred Armisen, who you may recognize from "Saturday Night Live," and Carrie Brownstein of Wild Flag and Sleater-Kinney performing live music, presenting sneak-peek clips from the show's second season and sharing personal anecdotes about the creation and inspiration of Portlandia and its variety of eccentric characters, including Portland's openly reggae mayor (Kyle MacLachlan, "Desperate Housewives," "Twin Peaks"); Peter and Nance, an overly eco-conscious couple; and Toni and Candice, the shopkeepers of the feminist bookstore, "Women and Women First."
Portlandia: The Tour begins in Portland, Oregon (obviously) on Tuesday, December 27, 2011, but tickets go on sale Tuesday, November 22, 2011.Yes, that's tomorrow. For more ticket information, head here.
Portlandia: The Tour Dates and Venues:
Tuesday, December 27
Portland,
Hollywood Theatre
Wednesday, December 28
Seattle
Showbox at the Market
Friday, December 30
San Francisco
Mezzanine
Tuesday, January 17
Los Angeles
Echoplex
Wednesday, January 18
Chicago
The Hideout
Friday, January 20
Brooklyn
Music Hall of Williamsburg
Saturday, January 21
New York
Bowery Ballroom
For the latest news on the new season and on Portlandia the Tour, check out our Facebook page and follow along on Twitter @ifcportlandia and use the hashtag #Portlandia
The second season of "Portlandia" starts on January 6, 2012