Peter Jackson unveils "The Hobbit" set footage, explains 3D use in new video blog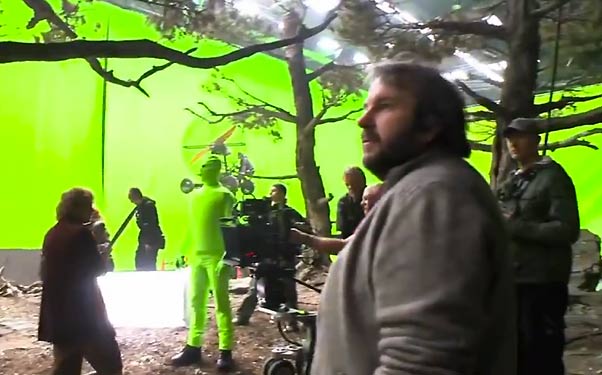 Posted by Terri Schwartz on
It didn't come as too big of a shock that Peter Jackson decided to film both parts of his "The Hobbit" adaptation in 3D. In fact, as he reinforces in his latest video blog from the set, he would have done the same thing with the "Lord of the Rings" films had the technology been available at the time. In addition to filming at 48 frames per second, Jackson and his crew are using the latest technologies to shoot the movie in 3D. And, like he's done with many aspects of the filming process, Jackson has decided to share his adventures in three dimensions with his fans in a new video blog.
The blog features a lot of technical explanations for Jackson's reasoning behind his creative decision. For instance, he made sure that the feel of the 3D camera shooting the movie was the same as when he shot in 2D for "The Lord of the Rings" because he didn't want the series as a whole to feel disjointed.
"It was very important for 'The Hobbit' that we feel like the same filmmakers have gone back into Middle earth to tell a new story," he said.
He also had to alter much of the way he used colors and patterns in the film because of the way filming at 48 frames per second alters how they look on screen. So Mirkwood Forest looks a lot more "psychedelic" in real life than it does on film, and the costume designers had to switch out some of the patterns they had planned on using for clothing because it would look terrible on the big screen. Similarly, wigs had to be made using real hair because the clarity of the 48 fps image would make it obvious that any other wigs are fake.
The vlog is a nice chance to see some familiar faces on set. Elijah Wood comically makes a comment that 3D makes "you almost feel like you're in it" (surprise, Elijah, you are in the movie!). Seeing Ian McKellan in full Gandalf get-up wearing 3D glasses also earns a chuckle. But fans who wanted to see more of Martin Freeman and the dwarves in action will be happy with this video. Also, the shot of Bilbo and the gang after they are captured by the Giant Spiders in Mirkwood is pretty darn cool.
Jackson ends the vlog entry with the news that "The Hobbit's" time on a studio set will soon be coming to a close. Production is going to be headed on location in New Zealand soon for the next few months. We definitely can't wait to see Jackson and his crew filming more Tolkein in and around New Zealand.
"The Hobbit: The Unexpected Journey" hits theaters on December 14, 2012.
Are you guys as excited for "The Hobbit" as we are? Tell us in the comments section below or on Facebook and Twitter.