Exclusive: Dane Cook reacts to Patrice O'Neal passing – "Truly a force to be reckoned with"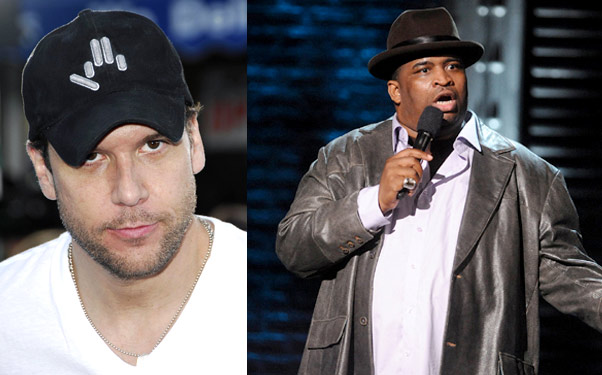 Posted by Brian Jacks on
Dane Cook may be a comedy superstar with chart-topping albums and sold-out arena shows, but at the beginning of his career he was simply a young comic starting out in Boston alongside a fellow newcomer named Patrice O'Neal.
With the tragic passing today of O'Neal, we asked one of his oldest industry friends for his remembrances of the boldly funny comic.
"I started with Patrice," Cook tells IFC. "Patrice is part of my graduating class. Our roots are in Boston. We were new comics together and I watched Patrice develop into what I feel is one of the greatest comedy voices ever."
With frequent appearances on "Tough Crowd with Colin Quinn" and VH1's "Best Week Ever," O'Neal quickly garnered fans of varying backgrounds, breaking out of the box that sometimes inhibit black comedians. Cook, for his part, wasn't surprised by O'Neal's ability to reach different groups.
"When you talk about somebody who is in that Pryor-esque place where you connect across any audience, Patrice had a blunt force trauma about him, where he was so hilarious but at the same time so painfully truthful," Cook recalls. "I remember one of the first jokes he ever told that I thought was absolutely brilliant. He said, 'I'm a big guy. I wear a big size. But at the same time I'm a big black man. I'm very opinionated. Basically I wear Malcolm XXL.' The guy was just truly a force to be reckoned with."
Cook also found himself relying on O'Neal for career direction, looking at his friend with a reverence usually reserved for older comics espousing age-gained wisdom.
"Not only did Patrice bring incredible laughs to people, but he had insight," says Cook. "Patrice gave me some of the greatest advice of my life. There are moments that I had sitting with him at the back of the old Nick's Comedy Stop in Boston, that I felt like direction-altering moments with him. For the family and all his friends and fans, we're all so sorry and at the same time we are immediately looking and trying to share our favorite Patrice stories and I hope that people will just continue to YouTube him. His comedy is timeless."
At the end of the day though, O'Neal's loss is felt on a more personal level by those who knew and loved him. "It's a huge gaping hole in the comedy world today and I will miss him as a performer, but mostly as a friend," says Cook.
Leave your own remembrances of Patrice O'Neal in the comments below, or on Twitter or Facebook.