Think "The Muppets" are selling out? Think again.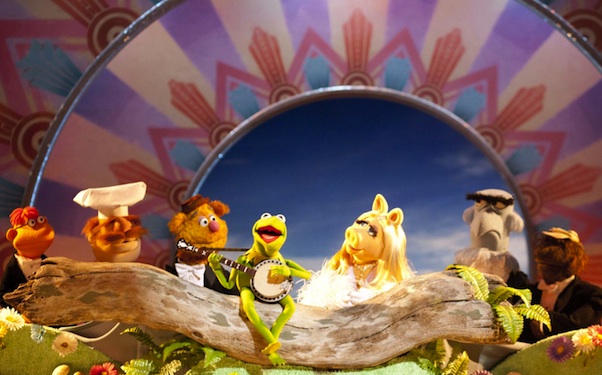 Posted by Matt Singer on
The Muppets sure are busy these days. Their new movie — their first in twelve years — opens in theaters on Thanksgiving and Jim Henson's famous creations have been popping up everywhere to promote it. They've made a billion parody trailers, a cover album of their old hits, and cranked out tons on TV cameos including, most strangely, an appearance on WWE's Monday Night Raw. In the wake of this marketing, I've started to see articles online and hear rumblings from friends and other critics that this behavior represents conduct unbecoming of The Muppets. That somehow the Muppets should be better than pimping their movie on pro wrestling.
That's ridiculous. It is impossible for The Muppets to sell out. Why? Because the Muppets have been appearing in advertisements a lot longer than they've been appearing in movies.
From the earliest days of his company, Jim Henson boosted the income he made working in television by producing commercials. Although the word "commercial" doesn't appear once in the Muppets' Wikipedia page, their work in television ads throughout the 1950s and 60s were important both to the growth of Henson's company and the growth of his characters.
Before he was the Muppets' resident piano player, for example, Rowlf the Dog was a pitchman for Purina dog food. He was specifically created for the company's ads starting in 1962.
Rowlf wasn't the only Muppet to get his start in commercials and transition into a featured character on television. See if you recognize this iconic Muppet in one of his first appearances, hawking potato chips before he developed a taste for sweets.
Many of Henson's vintage commercials are shameless, and it definitely feels a little strange to watch a beloved childhood icon extolling the virtues of Esskay thick-cut bacon. But Henson's ads were also very mature for their time, both in form and content, and they sported a cutting edge sense of humor. For example, watch this inspired ad for La Choy canned chow mein, featuring the adorably clumsy La Choy Dragon. The background gag with the store clerk and the fire extinguisher looks like something that would feel right at home in a 2011 commercial — and this spot is almost 50 years old.
While we often think of vintage marketing as quaint and dated, Henson's commercials remain fresh and sometimes shockingly subversive. Check out this one for Ideal Toys' Muppet puppets for kids. Listen particularly to the incredibly dark lyrics of the song the puppets sing. If this commercial aired today, it — and maybe the entire Muppet brand — would be banned instantly.
Bear these ads in mind the next time you kvetch that the Muppets have gotten away from their core values. In fact, every time Kermit, Miss Piggy, and the rest of the gang cleverly shill for Alamo Rent-a-Car or MasterCard they're just getting a little bit closer to their roots.
Do you think The Muppets have sold out? Tell us in the comments below or on Facebook and Twitter. And for more on Jim Henson's commercial work, check out the fabulous Jim Henson's Fantastic World exhibit at the Museum of the Moving Image through January 16.