Tarsem Singh's "Mirror, Mirror" trailer goes for the Snow White comedy angle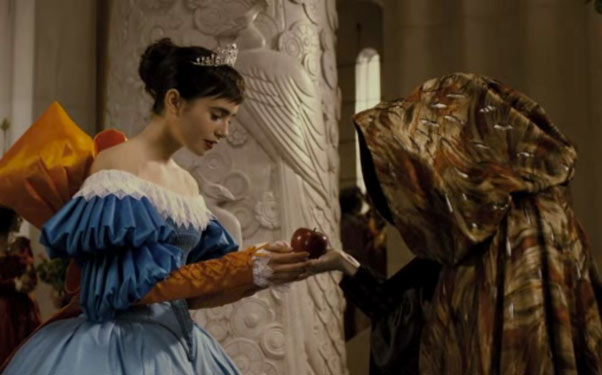 Posted by Terri Schwartz on
Let's just say that if "Snow White and the Huntsman" took a look in a mirror, it definitely wouldn't see Tarsem Singh's Snow White flick "Mirror, Mirror" in its reflection. The two are about as different as two movies about the same source material can be, which is good because they're being released less than three months apart from one another.
"Mirror, Mirror" has opted to go the comedy adventure route, as evidenced by its new trailer. The fact that it opens up with a dance sequence and uses a phrase like "snow way" shows that it's a very different beast than its more action-oriented counterpart.
Julia Roberts definitely steals the show in this trailer with her spot-on comic timing. It seems like Singh is planning on using her as his major selling point for the film instead of leading lady Lily Collins, who is hardly a household name yet. But also not to be ignored is "The Social Network" and "J. Edgar" star Armie Hammer, who plays "Mirror, Mirror's" Prince Charming. Even if you aren't a fan of this trailer, I dare you not to laugh during the scene when he accidentally gets dosed with a "Puppy Love" potion.
At least Collins gets a chance to speak in this trailer, unlike Kristen Stewart in "Snow White and the Huntsman's." Though, judging by the quick scenes that Collins did have in the teaser, it makes sense why Relativity kept her exposure so minimal. She'll likely be fine within the context of the film, but Collins hasn't exactly been known for her acting prowess in films like "The Blind Side" and "Abduction." It seems like the better option to lean on Roberts' star power to convince fans that this is the Snow White film they want to see than count on a relatively unknown actress to carry the movie from the get-go.
"Mirror, Mirror" is slated to hit theaters on March 16, 2012.
Were you impressed by "Mirror, Mirror's" trailer? Tell us in the comments section below or on Facebook and Twitter.