Michael J. Fox takes the stage with "Johnny B. Goode" in epic nod to "Back to the Future"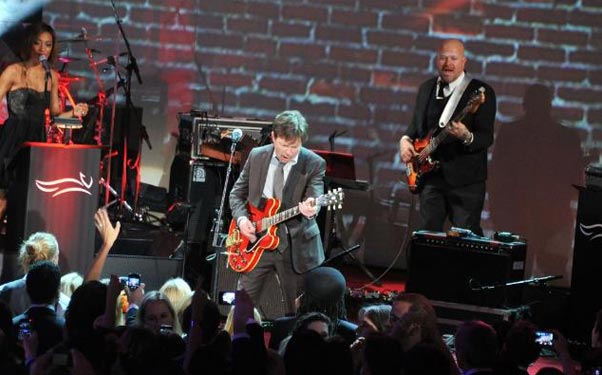 Posted by Will Weinand on
There are several great plots running through the epic 1985 adventure film"Back to the Future." There's time travel, a father/son bonding story, an Oedipal threat, the impending death of a mentor and the rare chance to rewrite history by defeating evil before it takes root. But before any of those threads ever get going, it's the story of a guy who wants to play his high school dance.
When Marty McFly auditions with his band at the start of the film, his rejection mid-performance of "The Power of Love" (from none other than a dean played by Huey Lewis) is just one more defeat he's had to suffer in a life of crushing disappointments. So, in the name of bringing stories full circle, it's perfectly fitting that after he's brought his parents together, made his father a better man and prevented his own erasure from the course of history, Marty takes a victory lap by rocking the "Enchantment Under the Sea" dance with a rendition of Johnny B. Goode (and creates a paradox by doing so 3 years before Chuck Berry would write the song in 1958).
It's in that equally triumphant spirit that you can watch Michael J. Fox perform a recreation of that scene at "A Funny Thing Happened on the Way to Cure Parkinson's" charity event that took place this past weekend in New York. Fox, who was diagnosed with Parkinson's 20 years ago and has been a spokesperson for finding the cure since 1998, took to the stage with a Gibson guitar identical to Marty's and showed the crowd how to party like it was 1955. You can check it out below (just a heads-up, it's too darn loud).
Did watching Michael J. Fox perform make you want to get the DeLorean up to 88 miles per hour? Tell us about your favorite "Back to the Future" moments in the comments below or on Facebook or Twitter.