Michael Fassbender says he is "open" to starring in "Robocop"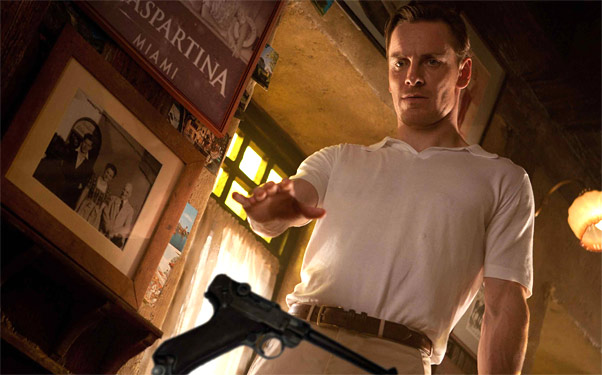 Posted by Terri Schwartz on
Michael Fassbender has quickly become one of Hollywood's most in demand actors. His recent slew of drama-heavy films like "Shame" and "A Dangerous Method" could almost lead one to forget that he just as happily starred in action-packed blockbusters like "300" and "X-Men: First Class." So it shouldn't come as too much of a shock that he is open to director José Padilha's idea of casting him as his lead in the upcoming "RoboCop" remake.
"It could be kind of fun. It could be kind of good to have a helmet that I could hide behind, for most of the film, too. That sounds kind of appealing," Fassbender admitted to Collider in a recent interview.
Though Fassbender is attached to Steve McQueen's "Twelve Years a Slave" and Jim Jarmusch's untitled next drama — and of course stars in "Haywire" and "Prometheus" — he said he'd be interested in joining the remake of the 1987 classic. He hasn't had a look at the film's script yet, but apparently it's part of his acting process to give every film he's offered a chance.
"I'll take a look at the script and sit down with the director and have a conversation. It's not definitely like, "Oh, I've got to play RoboCop before I retire." I don't have that about anything. I don't go, 'I have to play the Dane one day, or Hamlet.' I don't really think like that. I just wait and see what comes up, and I'm always open to it. If I react to the script, then I'm up for anything," he said.
When IFC caught up with Padilha at Fantastic Fest, he admitted that the Fassbender rumor had sprung from a hasty answer to a casting question the Brazilian director had given earlier that year. A reporter had asked him who would play Robocop, and Padilha had responded, "How about Fassbender?" But there never were any actual discussions to cast Fassbender as the film's titular character.
"He's a great actor but there are other great actors that I really love, that could also do it," Padilha said. "I can give you other names if you like, like Chris Pine; there's several of them. But I haven't discussed this film with any actors."
Would you like to see Fassbender replace Peter Weller in the upcoming "RoboCop" remake? Tell us in the comments section below or on Facebook and Twitter.