Meet the next generation of movie cars, from vampire airships to magical cats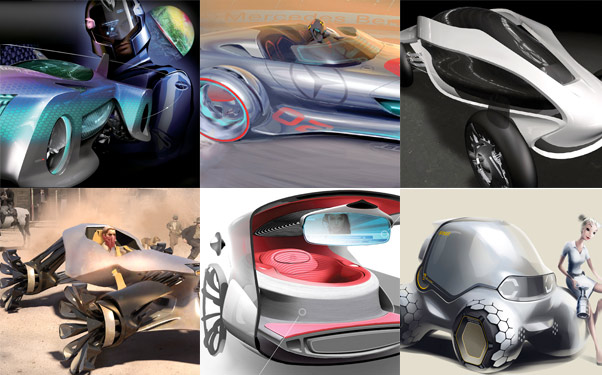 Posted by Brian Jacks on
Sure, Hollywood is built on the backs of its major stars and directors, but their transportation is often as memorable as their characters. From James Bond's Aston Martins to Bruce Wayne's iconic Batmobile, audiences have been forever fascinated with cinema automobiles.
With all that in mind, the organizers behind this year's L.A. Auto Show asked vehicle manufacturers to envision a brand new movie car and its fictional backstory. The resulting designs and origin tales are as good as anything from the studios. Check them out below (descriptions and photos are provided by the automakers).
---
Honda IH (Intelligent Horse)
Honda takes us hundreds of years into the future to a world disrupted by the impact of a gigantic comet. The resulting heat and drought have wiped out technology, infrastructure and life as we know it, making it imperative for the few remaining survivors to recover faster than any human generation before. The few scientists have created a vehicle that serves as a companion and protector in the inhospitable and lonely environment. Their inspiration – the legend and material remains of an ancient creature called the horse.
A masterpiece of technology, the Honda IH symbolizes a breakthrough in terms of mobility and companionship in an inhumane, hot, dry and dangerous environment. The vehicle takes advantage of three key elements which will emerge in the near future: local production, artificial intelligence and additive technology. The vehicle uses the efficient, lightweight, strong, and functional characteristics of bones for its inspiration. A.I. technology and nanotechnology gives everybody the power to produce material resources and parts for the vehicle locally. Additive technology is a revolutionary attempt to produce very small or especially very large parts in a more efficient way to save weight and resources while improving the strength and flexibility of the product. The IH vehicle combines both the character and simplicity of a horse with the latest structural, safety and technological innovation.
At High Noon the dangerous environment is apparent when there is a showdown between IH's competing for fuel and other resources. The most creative will prevail.
---
Mercedes Silver Arrow
In homage to 125 years of automotive innovation and design excellence, Mercedes-Benz Advanced Design of North America features a story with two techno characters that have achieved a unique harmony between safety and style; the iconic Mercedes-Benz Silver Arrow racecar, and the underappreciated 'Crash test dummy.'
In a futuristic society of increased artificial intelligence, two enlightened crash test mannequins, Hans05 and Franz02, show that they're no dummies when it comes to recognizing a potential catastrophe and decide to take matters into their own hands. As the evil battering ram Dr. Crash-Barrier seeks to continue his reign of terror and mayhem, the two heroes take action to save their beloved Mercedes-Benz Silver Arrow. They lead the relentless 'Dr. Barrier' on an action packed thrill ride through the past and future of transportation.
A long-slung, sculpture on wheels – actually on 'Hoops' – the Mercedes-Benz Silver Arrow has proportions reminiscent of the Mercedes-Benz W125 series, a Silberpfeil racecar of the late 1930's and the Uhlenhaut SLR from the 50's. The overall shape follows distinguished Mercedes-Benz design traditions and is born from a dominant Formula 1 racing legacy. It also features a diagonally configured, hub-less roller track for 'Omni-Directional' maneuvering.
Brought to you by the creators of 'Biome, a car grown from trees', this epic adventure has it all, including a surprise ending that will have audiences cheering as our reluctant heroes save the day with a little old- school subterfuge and help from the great tradition of the Mercedes-Benz automobiles.
---
Smart 341 Parkour
In a world of continuous change, in Cantpark City, reporter Annie Angle is beginning a new chapter in her life. Cantpark City is famous for its friendly people, the beautiful weather, but notoriously known for a lack of parking spaces. On an early Sunday morning, an article in a newspaper catches Annie's eyes… "Smart Granny Robots missing!!!"
Annie sets off on a journey to solve the mystery of the missing Grannies and to earn her first, potentially career-making, front page news article. Her Smart 341 Parkour vehicle plays a key role in this private investigation, providing both effective transportation and favourable sleuthing capabilities.
Several features enable her to take pictures from the best possible locations. The large greenhouse gives Annie 360 degrees of visibility while travelling through the inner city. The wheels are retractable and contain impulse pads and vacuum cups. The hexagon skin around the wheelhouse is adjustable to release the wheels. The Smart has different modes: a typical drive mode, a fly mode that allows the vehicle to hover far above the streets and a climb mode that allows the vehicle to run up the walls of skyscrapers.
Follow Annie's investigative search in Smart's "Annie get the Grannies!" this November.
---