Louis C.K. announces plans to broadcast New York City comedy show online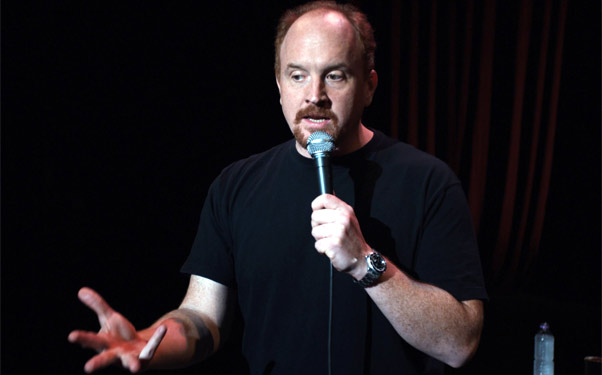 Posted by Aubrey Sitterson on
Like pretty much everyone else on the Internet, we love Louis C.K. His FX series "Louie," this year's comedy special "Hilarious," "Pootie Tang," hell, even his hysterical appearances on "The Opie & Anthony Show" – the guy can do no wrong. Now, you'll have a chance to watch the comedian do his thing without any pesky networks, streaming subscription services or even commercials getting in the way.
As reported by the New York Times, last night on "Conan" as part of Conan O'Brien's return to New York City series of broadcasts, Louis C.K. showed up and made an announcement that had us more excited than even the return of Triumph the Insult Comic Dog. On November 10, the comedian will hit the Beacon Theater in Manhattan to record a live show that will be edited and made available on louisck.net for only $5.
Instead of going through a traditional network, Louis C.K, who certainly has the cache and popularity to pull something like this off, is cutting out the middleman and plying his craft directly to his fans. The comedian asked, "Why should I go through a cable network when I can just give it directly to the people who want to see it? It's so much easier, and it's an interesting experiment."
C.K. went on to explain that though he had worked for HBO in the past ("Lucky Louie" and "The Chris Rock Show") the network is now only interested in doing specials for people currently working with them. Meanwhile, he described Comedy Central as "a weird place – they show too many commercials and they cut all the cursing out."
The comedian also jumped on the disparaging-words-for-Netflix bandwagon, saying, "If you want to watch one of my specials on Netflix, they start marketing to you, and you start getting Jeff Dunham ads. You try to read an article about Rwanda and a pop-up comes up for Larry the Cable Guy. 'Hey, I heard you enjoyed Louie's special – now we know who you are.'"
Louis C.K.'s concern about his fans being interrupted during "Ghosts of Rwanda" aside, this is a pretty exciting development, as is any that allows consumers to bypass traditional distribution methods in favor of cheaper, more direct alternatives. What do you think about Louis C.K. eschewing traditional networks in favor of his own website? Will you hand over a sawbuck to watch the special?