Primus frontman Les Claypool describes his top 5 movies ahead of tomorrow's IFC.com video premiere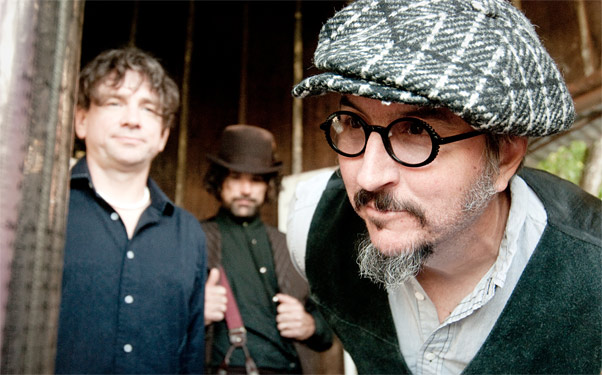 Posted by IFC on
Primus' new album "Green Naugahyde" draws on Les Claypool's filmic obsessions — even veteran Westerns actor Lee Van Cleef gets a shout out in a song called, well, "Lee Van Cleef." "People always ask me who my heroes are, expecting me to say someone like Geddy Lee [from Rush]," Claypool told IFC. "But really, it's more people like Elia Kazan, Sergio Leone, Frank Capra, Terry Gilliam, and Jared Hess."
That might go a long way towards explaining why so many Primus songs seem to happily co-exist in the film world — for instance, "Spegetti Western," or "Camelback Cinema." Or why so many Primus songs are based on peripheral characters — "John the Fisherman," "Jerry Was a Race Car Driver," or, more recently, "Jilly's On Smack." "I love character actors," the singer/bassist said. "If I'm switching channels, and something with Slim Pickens is on, or Walter Brennan, I'm stuck. I have to watch it."
So with that in mind, Claypool — who directed a feature called "Electric Apricot" — made the equivalent of his Desert Island Discs for the movie world and shared his top five favorite films with IFC.
Check out the premiere of Primus' "Tragedy's A'Comin'" music video and an exclusive interview with Les Claypool this Thursday at 8am ET only on IFC.com.
---
1. "Dr. Strangelove or: How I Learned to Stop Worrying and Love the Bomb" (1964)
"It's my all-time favorite. You can't watch 'Dr. Strangelove' with commercials. That would be sacrilegious. Peter Sellers, it's just the most spectacular thing he's ever done. George C. Scott, you don't see those types of characters any more. I quote this film all the time to friends of mine, like Sterling Hayden's speech to Mandrake about the fluoridation of water. And this film remains very relevant today. It makes a huge socio-political statement. And it looks spectacular. You could watch it over and over again. I do."
---
2. "A Face in the Crowd" (1957)
"Not that Andy Griffith ever did anything subpar, but he's just spectacular in this. I stumbled across it years ago, and it really holds your attention. It's very frightening. And I think one of my greatest fears is that they'll try to do a remake of this film with Adam Sandler. I'm sure he's a very nice guy, but you don't want to mess with this! This is the way it should be."
---
3. "Meet John Doe" (1941)
"This is a Gary Cooper film with Barbara Stanwyck. It's a film that very much influenced the Coen brothers, especially 'The Hudsucker Proxy.' It's about this little guy against the big guy, like a lot of Capra stuff is, and in this case, it's a baseball player who stumbles by the powers that be, who have him take part in this scam. At first, it's a thing for good, but then it has a dark side, because it's deceiving the public, and he tries to stand up to that. I watch this every Christmas. I inflict it on my in-laws from Iowa. I think they loved it the first three or four times, but now they kind of roll their eyes a bit."
---
4. "Evil Dead II" (1987)
"Sam Raimi has gone on to become a champion of mine. 'The Evil Dead' and the whole series was a masterpiece. I've seen it countless times, in various states of mind, and I've been happy to turn my own kids on to this particular film, especially my son. There are so many aspects of the filmmaking in it that we've utilized just to make music videos! And Bruce Campbell, watching him get brutally beat down by these phantoms, and then he comes back with a chainsaw on his amputated wrist? Pretty sweet."
---
5. "There Will Be Blood" (2007)
"Daniel Day-Lewis is my favorite actor walking the planet right now. He never ceases to amaze me. Bill the Butcher in 'Gangs of New York'? And here as Daniel Plainview? He's obviously a John Huston character. Paul Dano killed it, too. You can't stand him, but you can't not watch him. They both are despicable and compelling. And the score is amazing. I was listening to it going, 'Who the hell did this?' And then I discovered it's Jonny Greenwood from Radiohead. Huge kudos to that guy. I love Radiohead, but this is the best scoring I've seen in years. We actually parodied this film once. We tried to pitch an animated series, and one of our things was doing the milkshake scene with hippies from Burning Man. I did my best Daniel Day-Lewis impersonation. It didn't go over as well, I guess."
Be sure to check out the premiere of Primus' "Tragedy's A'Comin'" music video and an exclusive interview with Les Claypool this Thursday at 8am ET only on IFC.com.
What do you think of Les' list? Let us know below or on Facebook or Twitter.