Grandpa fight! Check out an exclusive clip from the documentary "Knuckle"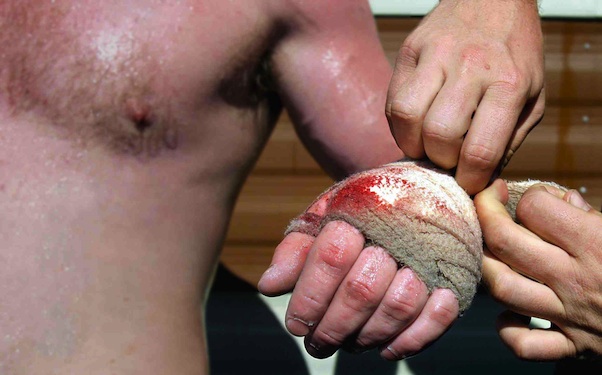 Posted by Matt Singer on
Boxing gloves are for wimps.
The upcoming documentary "Knuckle" chronicles a decade in the neverending feud between Irish Traveller clans. For reasons neither can quite remember, the Quinn McDonaghs and the Joyces have been at each other's throats for generations. Their arguments simmer through elaborate taunting videos they record and send to one another (and, nowadays, post on YouTube) and then explode at frequent underground bare knuckle boxing matches.
It was a fluke that director Ian Palmer discovered this world, and it was even more unlikely that he, an outsider among the Travellers, would be invited to document year after year in the war between the Quinn McDonaghs and Joyces. But that's exactly what happened, and the gripping "Knuckle" is the result.
In this exclusive clip from the film, which opens on December 9, you get a taste of what an underground bare knuckle boxing match looks like: it's a bloody, angry mess. You'll see two older dudes — grandfathers, as Palmer notes in his voiceover — going at it. The reasons aren't given, mostly because they're irrelevant. Fighting is simply and sadly a part of life for these people. And they're kind of terrifyingly good at it.
Take a look, but be careful if you're squeamish: one of these guys gets good and bloody. For more on "Knuckle," check out my interview with Palmer and subject James Quinn McDonagh at Fantastic Fest. And please: do not try this at home. Gloves may be for wimps, but concussions are for tough guys.
video player loading
.
.
.
What's your favorite movie about boxing? Tell us in the comments below or on Facebook and Twitter.