Kirsten Dunst is not a fan of comic book movie post-credit scenes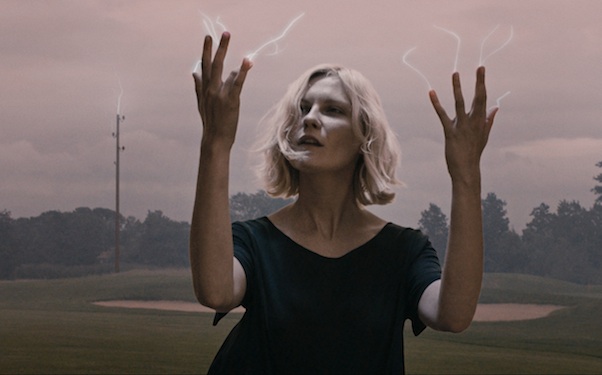 Posted by Matt Singer on
Even though Kirsten Dunst's last "Spider-Man" film came out just four years ago, it feels like it belongs to another era of comic book movies. Spidey's about to get a square one reboot in next summer's "The Amazing Spider-Man" while Marvel has built its own cinematic comic universe with "Iron Man," "Thor, and "Captain America" all building to the upcoming "Avengers" movie from Joss Whedon.
With the final moments of my video interview with Dunst about her incredible performance in Lars von Trier's new movie "Melancholia," I decided to ask the talented actress about the changing landscape of comic book movies. Was she glad that her "Spider-Man" films were their own separate thing, or would she have liked the chance to play Mary Jane in other characters' films? Dunst paused and then gave me an answer that surprised me:
video player loading
.
.
.
"The one thing about the movies now when I go with my friends that are really into 'Captain America,' or whatever — we have to sit there through the whole credits and then wait at the end for these clips that are a couple minutes long that preview the next movie and I find that really annoying. [laughs] We really have to sit here through the entire credits so we can watch two minutes of a movie that's coming out next year? I don't like that whole thing, but I know that's really geeky and awesome for everyone else. For me, I find it really irritating. [laughs]"
Let me say that I'm one of those people that's "really into" Captain America and the rest of these comic book characters. My office is a veritable shrine to Spider-Man. It's packed with toys, comics, original art; there may even be an action figure of Dunst's Mary Jane in there (okay, I'm trying to play it cool and act like I'm not sure; there totally is one standing next to Spidey). Arguably no one should be more into these so-called "credit cookies" than me. I am the Colin Farrellish bullseye at the center of the target audience.
But here's the thing: I think Kirsten's right about this.
The cookies were fun for a while, particularly the one in "Iron Man" because it was such a total surprise and it included a genuinely cool cameo from a big-time movie star (namely Samuel L. Jackson as Nick Fury). But the Sam Jackson "Iron Man" cameo was so cool, audiences started to expect credit cookies with every comic book movie. And then producers started dutifully supplying them even when they didn't have the material to support them. The tease in "Iron Man 2" was an anticlimactic glimpse of Thor's hammer; the tease in "Captain America" was of a couple of characters having an awkward, meaningless conversation. If it looked like it was shot quickly months after the rest of the movie, that's because it was.
The problem spread beyond Marvel movies this summer. "Green Lantern"'s credit cookie actively contradicted the film's conclusion for the sake of a confusing, pointless reference to the original DC comic books. Meanwhile, "Rise of the Planet of the Apes" relegated the transformation of Earth into an ape-dominated dystopia to a CGI cookie in the middle of the closing credits. Shouldn't something as important as the extinction of the entire human race be included in the film itself?
It's a trope that's gotten way out of hand. So we're with you Kirsten: credit cookies are getting irritating. They should be based on merit, not obligation. When the filmmakers have a tease that's cool enough to throw in but not so important that it belongs in the body of the movie, we're up for it. When they're just throwing something on the screen for the hell of it because that's what happens in geek movies nowadays, we'll pass.
We'll have lots more from the "Melancholia" junket in the days ahead. The film opens this Friday. To the best of my knowledge, it contains no credit cookies.
What do YOU think of comic book movie credit cookies? Tell us in the comments below or on Facebook and Twitter.