John Carpenter on being approached for "Spider-Man" and "Batman," his thoughts on "The Thing" prequel, and an update on "Darkchylde"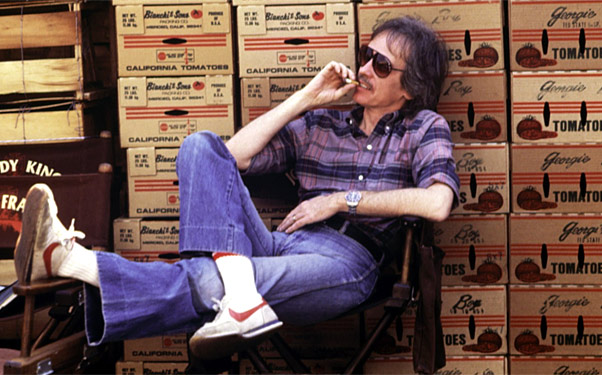 Posted by Rick Marshall on
On Friday, we kicked off the Halloween weekend by talking to director John Carpenter about his new comic book, John Carpenter's Asylum. The veteran filmmaker spoke at length about the horror tale he co-created with his wife, Sandy King, and actor Thomas Ian Griffith, but that wasn't all we discussed during our chat with the "Halloween" and "The Thing" director.
Given the comic's debut at Long Beach Comic Con over the weekend, we had to ask whether this meant Carpenter was warming up to the idea of directing a comic book movie.
"Well, I've thought about it before," Carpenter told IFC. "Way back in the '70s, I was approached to talk about the story I'd write for a Spider-Man movie. They also talked to me about Batman. I had to think about it, but that was way, way back when."
"I've gone through various periods with superheroes," he explained. "They work in the right hands, but they don't work in other hands. It's tricky. But any movie is tricky. It's impossible to say, 'This is what you do in any situation.' So yes, I've thought about it and I'm not opposed to it."
And while he wouldn't commit to the idea, he technically has a comic book movie works already. A year ago today it was announced that Carpenter would direct a movie based on Darkchylde, Randy Queen's dark comic about a teenage girl cursed to transform into the terrifying creatures from her nightmares.
Given the Halloween anniversary of his attachment to the project, Carpenter was happy to offer an update on the film.
"We're still developing it, and we're still trying to get it set up," he said. "We're trying to raise money and find the right home for it, which is the biggest thing you have to do. You don't want some place that doesn't understand it."
"It's a very creative and very dark comic, and I love it," he continued. "I got to know the Queens very well and I really dig them. So we're nurturing that along."
Of course, we also had to ask Carpenter for his thoughts on the recently released pseudo-prequel to "The Thing," one of Carpenter's most famous films. Directed by Matthijs van Heijningen Jr., the 2011 prequel to Carpenter's 1982 classic opened October 14 but fell short of the studio's box-office expectations.
"I haven't seen it yet," admitted Carpenter. "I've heard different things from different people, though. . . But you know what? I wish them well. I'll find out for myself when the Academy sends me all the movies at the end of the year to review."
Would you like to see Carpenter's take on a superhero-style comic book movie? What about "Darkchylde"? Chime in below or on Facebook or Twitter.