Jason Segel on "The Muppets" cameos and why you don't mention puppets in a Muppet movie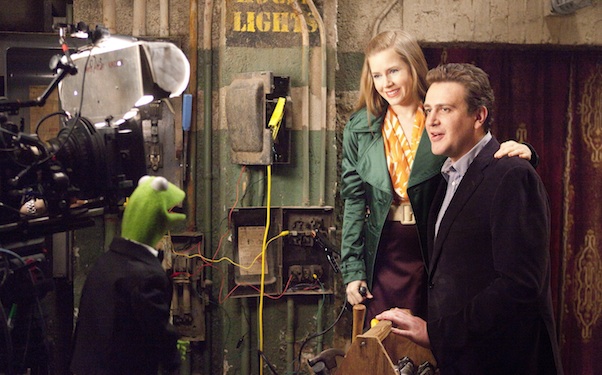 Posted by Rick Marshall on
Kermit the Frog, Miss Piggy, and the rest of the Muppets return to the big screen this week in their first theatrical release since 1999's "Muppets From Space."
A project several years in the making for "The Muppets" co-writer and lead Jason Segel, the film has been the subject of much attention since it was first announced back in 2008 — with many wondering whether the classic characters will retain their relevance in today's culture.
IFC spoke with with Segel about bringing "The Muppets" back to the big screen and the tricky task of balancing the needs of longtime Muppets fans and the desire to introduce Henson's creations to a new generation of children.
IFC: Jason, you've talked about growing up with the Muppets and how this is such a passion project for you, so what's your earliest Muppets memory?
JS: My mother is a comedy dork like me, but I was a bit too young for "The Muppets Show." I was born in 1980, and I think the show ended in '82 or '83, but my mom had very dilligently taped all the episodes of "The Muppet Show," and as soon as I was old enough to watch them, she started showing me the VHS tapes. So my earliest memory is really me and my mom sitting on the couch and watching "The Muppets" together.
IFC: They say you can learn a lot about someone by knowing his or her favorite Muppet. Do you have a favorite Muppet?
JS: Yeah, it's Kermit. I know that's the easy answer, but when I was a kid, Kermit was Tom Hanks. He really formed my opinion of who I wanted to be as an actor.
IFC: The script for "The Muppets" went through a lot of changes over time, including some major edits to Walter, your character's brother in the film who also happens to be a puppet. The original story had a completely different take on your character's relationship with Walter, right?
JS: The ventriloquist issue was actually pretty interesting. In the original script we wrote, I played a ventriloquist on the boardwalk and Walter was my puppet, but the big secret was that Walter was really alive and always wanted to be part of the Muppets. But then the Muppets team came to us and said, "We've learned something over the years. You really don't want to ever evoke the idea of 'puppets' within the Muppets, because Kermit is not a puppet. Kermit is a frog. Miss Piggy is a pig."
IFC: Yeah, that's always been one of those things you try not to overanalyze…
JS: Suspension of disbelief is part of the seed of the Muppets. It would've been very hard — and very meta — for a child to wrap his head around the idea that Walter is a puppet but Kermit is not a puppet, Kermit is a frog. It just becomes very confusing. So with movies like this, you try to eliminate as much reference to puppets as you can.
IFC: So we always hear about the danger of working with children or animals if you're an actor. What can you tell us about working with Muppets?
JS: Well, it's incredible logistically complicated. All the sets have to be elevated, and puppets don't have eyes, so you can really only shoot with one camera at a time. It was funny, when we started we would be like, "And then when he walks in, Kermit looks over there." The puppeteers were like, "Um, you guys understand that Kermit can't see, right? When you say look over there, Kermit doesn't know what that means." So there's no frame of reference, and we had to learn some particular logistics when it came to puppets.
But the thing I really walked away with was how talented these puppeteers are. They're really the unsung heroes of this whole thing. Their job during the day is to be invisible. You're never supposed to think about the puppeteer. The guy who plays Miss Piggy also plays Fozzie Bear and Animal, and in any other context, that's like a Peter Sellers-like feat, you know?
IFC: Was there ever any temptation to use digital effects or other modern techniques to make things a little simpler?
JS: No, we specifically wanted to go back to the purist Muppets point of view. There's something visceral that you can't put your finger on about knowing that you can touch Kermit or meet Miss Piggy. You'll never meet Shrek. Shrek lives inside a computer. But a kid can come to the set and hug Kermit. Whether or not he can articulate it, he can definitely feel it — he can feel the difference.
IFC: What about all the film's cameos, and the involvement of so many people with various levels of exposure to the Muppets? Have you run into any trouble discussing the Muppets with people in and around the industry?
JS: It's funny, because people's memories of The Muppets are a little off sometimes. A while ago, someone asked me if I was going to play Kermit in the movie. I was like, "No… Kermit plays Kermit, guys."
IFC: When it came to the cameos, were you surprised by all of the people who were interested — especially the actors who are much younger than you or I and might not have the same connection to them?
JS: The thing is, we didn't really approach anybody for cameos. We made very few outgoing calls for this movie. As soon as word got around that we were doing the next Muppet movie, people were calling us to be a part of it, because it's sort of a rite of passage to get to work with the Muppets. To be able to show your friends that you're friends with Kermit — people were excited about that idea. Also, for comedians, the Muppets were a gateway to comedy. "The Muppets Show" was the first variety show you saw as a kid. That leads to "Monty Python" and "Saturday Night Live" and things like that. So for me, there's a very sweet spot in my heart for the Muppets.
IFC: I sat in front of a pair of kids during an early screening of "The Muppets" and was pleasantly surprised by how much of the humor they got — especially with some of the more adult, self-aware jokes. How did you find that balance between entertaining kids and adults simultaneously?
JS: It really was a four-year process of finding a balance between the nostalgia factor for our generation and just humbly acknowledging that there is a generation who might not know who the Muppets are. Ego-wise, not just for the Muppets but for a Muppets fan like myself, it's hard to wrap my head around the fact that the last Muppets movie was released 12 years ago. So kids ages 0-12 have not had a Muppets movie in their lives. So yes, we worked hard to find that witches' brew of honoring the Muppets we grew up with and introducing Muppets to some people for the first time.
IFC: So if all goes well with "The Muppets," can we expect a sequel? Is this something you'd like to do again?
JS: I think the way that I feel is, I serve at the pleasure of Kermit.
"The Muppets" opens November 23.
Related: "The Muppets" music supervisor Bret McKenzie teams with Kermit to sing "Life's a Happy Song"
Let us know what you think of Segel's comments about the film and The Muppets below or on Facebook or Twitter.