"The Hunger Games" photos give new looks at Jennifer Lawrence, Elizabeth Banks and Liam Hemsworth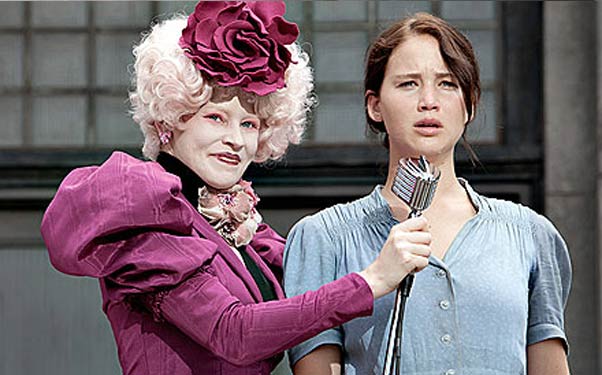 Posted by Terri Schwartz on
Hot off the heels of the recent (awesome) "The Hunger Games" theatrical trailer, two new images from the film have hit the web. While they might show scenes that were teased in the trailer, the photos offer at least a great new shot of Elizabeth Banks as Effie Trinket and a nice shot of Katniss (Jennifer Lawrence) and Gale (Liam Hemsworth) talking before she gets sent off to the Capitol.
The most emotional moment for many from the trailer was the moment where Katniss offers herself as a tribute for the Hunger Games in the place of her younger sister, Prim. The way Lawrence's voice cracks right at that moment and her eyes get frenzied and panicked is arguably the most effective portrayl in the teaser of the gravity of having to participate in the Games.
The still of Effie and Katniss shows the Girl on Fire still looking shell-shocked by her decision, while Effie looks unfazed by the whole incident. In fact, if I remember correctly, she tells Katniss at this moment how brave she is for offering herself in the place of her sister and then tries to start a round of applause. But the citizens of District 12 stand in silence and Effie ends up just looking like a fool, foreshadowing the ways Katniss will inspire the citizens of Panem to rebel against their government in The Capitol.
The second still shows a tender moment between Katniss and her best friend Gale. A lot more focus has been placed on Katniss's relationship with Gale in these promotions than her relationship with her fellow District 12 tribute and future love interest, Peeta. Gale doesn't get much page time in the first "Hunger Games" book, but it looks like he might get a bigger role in the film. Based on the footage we saw in the trailer of the citizens of Panem reacting to big screen screenings of Katniss in the Games, I have a feeling director Gary Ross might have beefed up Gale's participating in "The Hunger Games" instead of having the whole film take place from Katniss's perspective.
"The Hunger Games" tells the story of Katniss Everdeen, a 16-year-old girl from the poor District 12 section of the futuristic country Panem who volunteers herself into the annual Hunger Games to take the place of her sister. In the Hunger Games, she must fight to the death against 23 of her peers on national television to win fame and fortune to her District. But Katniss only thinks about her survival and returning to her family, and that's what gives her the edge. "The Hunger Games" hits theaters on March 23, 2012.
What do you think of these two new stills? What scene would you most like to see from "The Hunger Games"? Tell us in the comments section below or on Facebook and Twitter.