High Unemployment Rates Linked to Increased Number of Facial Tattoos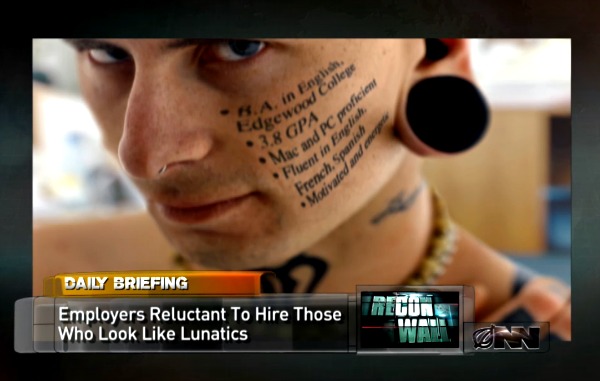 Posted by Melissa Locker on
From the "Onion News Network": A new jobs report from the Department of Labor shows that many Americans are out of work because 35% of them now have face tattoos. Turns out that employers are reluctant to hire anyone who would willingly mar their face with tiger stripes. Those facing discrimination based on facial tattoos, think it is unfair for employers to be prejudiced against those with facial tattoos. Just because they clearly lack good judgment doesn't mean that they won't be excellent workers. Faced with the nation's concern over this phenomenon, Vice President Joe Biden has come up with a plan to help reduce the stigma of facial tattoos. The Onion News Network has the full report:
video player loading
.
.
.
For the latest breaking news from ONN HQ, stay tuned to our Facebook page and follow us on Twitter @ONN and by using the #OnionNewsNetwork hashtag.
New episodes of "Onion News Network" air on IFC on Fridays at 10/9c