Here's what I like about the "Goon" trailer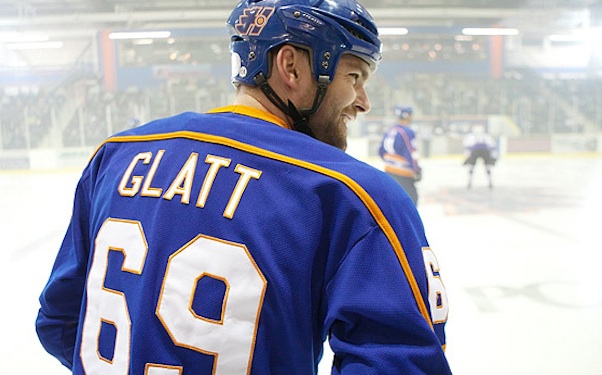 Posted by Matt Singer on
It's been over thirty years since "Slap Shot" proved that the world of minor league hockey was an ideal setting for gut-level, blue-collar comedy. "Slap Shot"'s one of the best sports movies of all time, and simultaneously one of the funniest and saddest. That's a tough act to follow, but again, it's been thirty years since Paul Newman laced up his skates for the Charlestown Chiefs; more than enough time passed to dive back into the place on film (There are rumors on the Internet that there was a "Slap Shot" sequel in 2002 but I don't buy it. It's probably fake like those pictures of that half-human/half-dog creature).
Maybe that's what Jay Baruchel ("Undeclared," "The Sorcerer's Apprentice") had in mind when he and Evan Goldberg ("Superbad," "Pineapple Express") teamed up to write the comedy "Goon," about a listless bouncer (Seann William Scott) who finds his calling as an enforcer on a semi-pro hockey team. Here's the trailer:
Here's what I like about the "Goon" trailer:
1. Red band trailer means R-rated movie, and really that's the only way to depict the salty life of hockey players. 69 jokes, men signing other men's genitals, little children watching a guy spill his guts on the boards right in front of them, it all looks like adult-oriented fun.
2. Nobody writes loving critical paeans about Seann William Scott the way they might about Will Ferrell or Ben Stiller, but maybe they should. Scott's appeared in his share of clunkers but he's also got more interesting movies in his filmography — including "Southland Tales," "The Rundown," "The Promotion," and "Role Models" — than a lot of his more respected contemporaries. He takes risks, and while this isn't the best time to argue this point since he's about to play that role again, he's not just Stiffler. He has some acting chops. Hopefully "Goon" gives him a chance to show them off.
3. With a basketball season looking less and less likely, we sports fans have to take our pleasures wherever they come. That means an increased reliance on sports movies to give us our fix, and this one looks like it could be very solid.
4. Scientific studies have proven that movies in which Liev Schreiber plays the villain are 12% funnier than movies in which Liev Schreiber either plays the hero or does not appear at all. See: "X-Men Origins: Wolverine;" "Salt."
5. I don't know that I buy that a guy could break a hockey helmet with a bare-headed headbutt, but I want to so bad. Like so bad.
"Goon" will be available on video on demand on February 24 and opens in theaters March 30. What do you think of its trailer? Tell us your thoughts in the comments below or on Facebook and Twitter.