Go 'Inside Portlandia' with Fred Armisen and Carrie Brownstein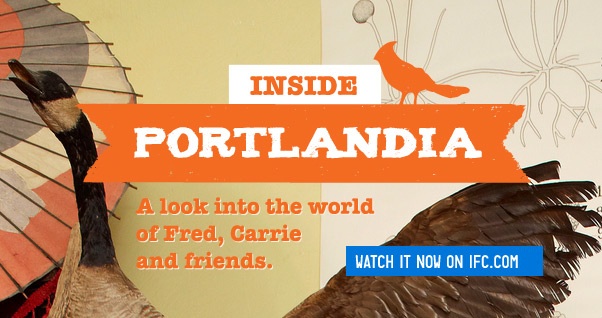 Posted by Melissa Locker on
video player loading
.
.
.
We are excited to invite you to go "Inside Portlandia." This short film directed by Lance Bangs takes you behind-the-scenes of "Portlandia" with Fred Armisen and Carrie Brownstein. In the 22-minute film the show's stars and creators talk about their friendship, their early days working on "Thunderant" and how they came to live in the wonderful world of "Portlandia." The film features interviews with director Jonathan Krisel and guest stars Andy Samberg, Kyle Maclachlan, Jason Sudeikis, Kristen Wiig, and more, including some previously unannounced guests who will be appearing on season two of IFC's hit comedy. (Everybody say hi to Miranda July!)
While "Inside Portlandia" should tide you over until the show's return on January 6th, in honor of the season, we are feeling giving. So if you want more sneak peeks of the show's second season, like us on Facebook. In the coming weeks we are going to be unveiling some special previews just for our Facebook fans.
For the latest news on the new season and on Portlandia the Tour, check out our Facebook page and follow along on Twitter @ifcportlandia and use the hashtag #Portlandia.
The new season of "Portlandia" kicks off on IFC on January 6, 2012