Five actors who made uglier onscreen women than Adam Sandler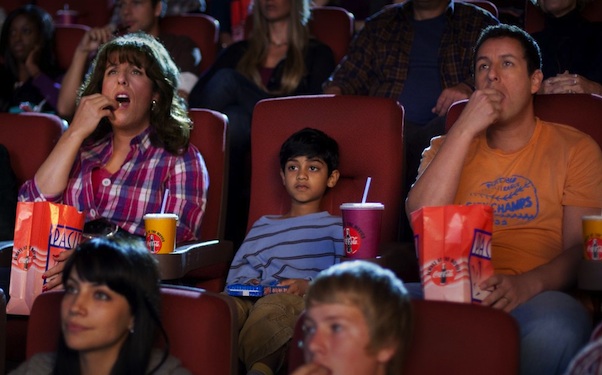 Posted by Matt Singer on
I don't think Adam Sandler will take offense if I say he makes a very, very ugly woman in "Jack and Jill." Hell, that's one of the main jokes of the movie — it's even the joke on the movie's poster — Sandler doesn't look much like a woman, but nobody in the film seems to notice (one character even finds him attractive, more on that in a moment).
Still, Sandler's not the first dude to look like a lady for laughs, nor is he the ugliest. He's definitely walking in the high-heeled footsteps of some fine (but not necessarily fine looking) actors. Here's five guys whom made even gnarlier looking woman onscreen than the former Happy Gilmore.
---
Jack Lemmon in "Some Like It Hot" (1959)
Directed by Billy Wilder
Although Sandler's playing a woman in "Jack and Jill" as opposed to a man crossdressing as a woman, his film definitely owes a certain debt to "Some Like It Hot," Billy Wilder's classic comedy about two male musicians who witness the St. Valentine's Day Massacre and go on the run as women in an all-girl band. In particular, Al Pacino's role as Al Pacino, eccentric actor and millionaire who falls in love with a guy-as-girl evokes definite echoes of Joe E. Brown's Osgood Fielding III, eccentric millionaire who falls in love with a guy-as-girl, in his case Jack Lemmon. As opposed to his co-star, Tony Curtis, who was actually quite fetching in drag, Lemmon was just a mess as "Josephine." Which, of course, made Brown and Lemmon's scenes that much funnier.
---
Edward D. Wood Jr. in "Glen or Glenda" (1953)
Directed by Edward D. Wood Jr.
In contrast, Ed Wood's drag scenes in "Glen or Glenda" weren't intended as comedy. Wood enjoyed dressing in women's clothing in his private life and he made "Glen or Glenda" as a sincere if strange defense of transvestitism. The scenes illustrating Glen's inner turmoil play out with all sorts of deranged, hallucinogenic imagery. They've also got Bela Lugosi screaming "Pull the string!" for no reason whatsoever. The finale, seen below, culminates in a genuinely poignant moment, when Glen's girlfriend learns the truth and offers him the sweater off her back. It's kind of a beautiful scene, though it doesn't make the sight of Wood in angora any prettier.
---
Robert Downey Jr. in "Sherlock Holmes: A Game of Shadows" (2011)
Directed by Guy Ritchie
It takes real skill — or questionable looks — to qualify for this list on the basis of a trailer alone. But take a look at said trailer, embedded below, and just try to disagree with me that Robert Downey Jr. makes one homely lady. Presumably he just puts on this "disguise" for the one sequence during this upcoming sequel to 2009's "Sherlock Holmes." The sequence looks spectacular. The disguise, not so much.
---
Harland Williams in "Sorority Boys" (2002)
Directed by Wallace Wolodarsky
Frat boys Dave (Barry Watson), Adam (Michael Rosenbaum), and Doofer (Harland Williams) get kicked out of their frat and lose all their money, then decide to pledge a sorority where rent is free. "We don't have to be babes, just believable!" says Dave, a.k.a. Daisy as they discuss the plan. On what planet is Williams' "Roberta" believable? Maybe I need to get new glasses. Or get rid of my glasses altogether. The fact that Williams was 40 and playing a college student might have been part of the problem.
---
Arnold Schwarzenegger in "Junior" (1994)
Directed by Ivan Reitman
They say a picture is worth a thousand words. Is it also worth a thousand screams of terror? You tell me. Yikes.
---
What actor made the ugliest onscreen woman? Give us your pick in the comments below or on Facebook and Twitter.