New "Expendables 2" pics show Jean-Claude Van Damme on set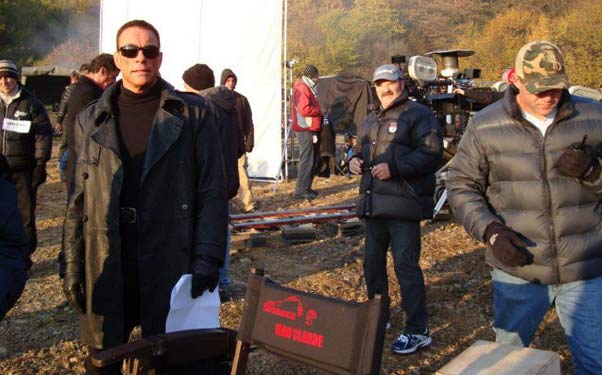 Posted by Terri Schwartz on
The cast of "The Expendables 2" is so badass that they don't even have to be doing anything in recently released set pictures for us to go over the top in our excitement for the film. A whole slew of photos of the cast hanging out on set (shouldn't they be filming a movie or something?) have hit the web courtesy of Expendables Premiere and show a first look at Jean-Claude Van Damme as well as some shots of Sylvester Stallone, Bruce Willis and Terry Crews. They certainly are a nice accompaniment to the images of Chuck Norris on set that hit the web a couple of weeks ago.
If for whatever reason you were worried that "The Expendables 2" wouldn't have enough vehicles, guns or muscles to keep you satisfied, these new pictures should put your mind at ease. The cast certainly looks like they're having a blast while filming, which should make "The Expendables 2" be just as much fun as its predecessor.
It will be nice to get a look at newcomer Liam Hemsworth hanging out on set with this slew of action movie heroes, but don't expect to see Mickey Rourke on set any time soon. The "Iron Man 2" star confided recently to ContactMusic that he never planned on coming back for a sequel.
"I did the first one because I felt that I owed Sly a favour. He gave me a job in 'Get Carter' when I couldn't f—king shine my shoes, you know what I'm saying? And that was that," he said. "The other thing around that, I had never said I was going to be in it. I think the producers announced it but nobody discussed it with me."
Are you looking forward to "The Expendables 2"? Tell us in the comments section below or on Facebook and Twitter.